SUJETS ÉVOQUÉS DANS CE BRIEFING DES MARCHÉS :
Les Bourses européennes

démarrent la semaine en hausse

Wall Street

termine en forte hausse

Graphique du jour –

XRP/USD :

Ripple franchit une résistance clé
Les Bourses européennes démarrent la semaine en hausse
Les Bourses européennes en hausse et sur des niveaux report en début de séance mardi dans le sillage de Wall Road, les espoirs d'une accélération de la reprise économique mondiale avec les progrès de la vaccination contre le coronavirus ayant rendu l'appétit pour le risque aux investisseurs.
Après quatre jours de fermeture des marchés européens à l'event du lengthy week-end de Pâques, les investisseurs applaudissent ainsi les chiffres mensuels de l'emploi aux Etats-Unis publiés vendredi, qui ont largement dépassé les attentes avec 916.000 postes créés, une bonne shock à laquelle est venu s'ajouter lundi un indice ISM des companies supérieurs au consensus et au plus haut de son histoire à 63,7.
Ces indicateurs confortent le scénario d'une accélération de la reprise aux Etats-Unis, une dynamique que devraient prolonger le plan de relance et le plan d'investissement dans les infrastructures de l'administration Biden. Cette perspective est d'autant plus worthwhile aux actions que la hausse des rendements des emprunts d'Etat semble pour l'prompt interrompue.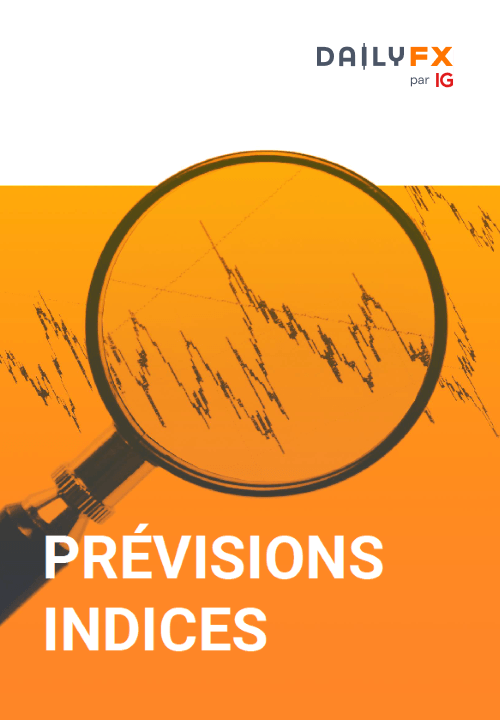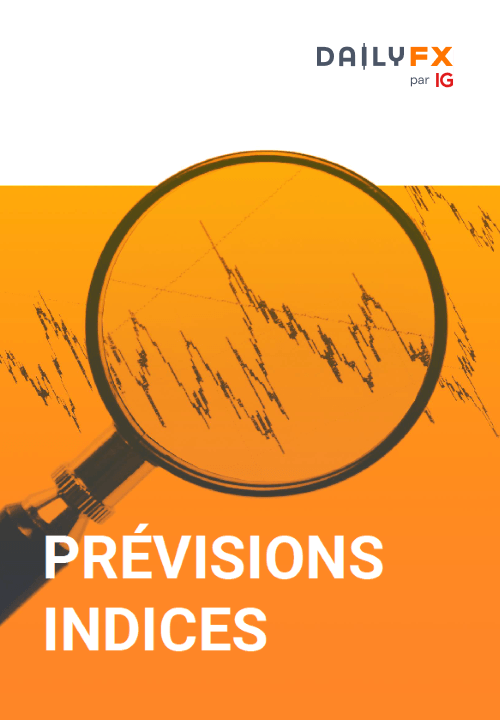 Recommandé par Joris Zanna
Recevez nos prévisions sur les actions
Wall Road termine en forte hausse
Wall Road a conclu en forte hausse lundi, sur de nouveaux information pour le Dow Jones et le S&P 500, portée par de bons chiffres sur l'emploi américain vendredi et l'espoir d'un retour de la croissance.
Lundi était la première séance de Wall Road depuis la publication des chiffres officiels de l'emploi américain vendredi et le retour d'un lengthy week-end de trois jours.
L'économie américaine a créé pas moins de 916.000 nouveaux emplois le mois dernier, un plus haut en sept mois, et le taux de chômage a reculé à 6%, selon les données du département du Travail publiées vendredi.
L'indice ISM du secteur des companies a affiché une croissance historiquement élevée en mars. Il s'est établi à 63,7%, en hausse de 8,4 factors de pourcentage par rapport à février et à un niveau jamais observé auparavant, selon l'ISM.
Ce chiffre, la dixième development mensuelle de suite, est très supérieur aux attentes des analystes qui anticipaient 58,5%.
Par conséquent, le Dow Jones, a cédé 0,31% à 33 066,96 factors. Le Nasdaq a reculé de 0,11% et le S&P-500a cédé 0,32%.
Autresfactors sur l'actualité des marchés financiers
Le marché pétrolier profite d'achats à bon compte au lendemain de la forte baisse provoquée lundi par la perspective d'une augmentation de la manufacturing de l'Opep+ dans les mois à venir.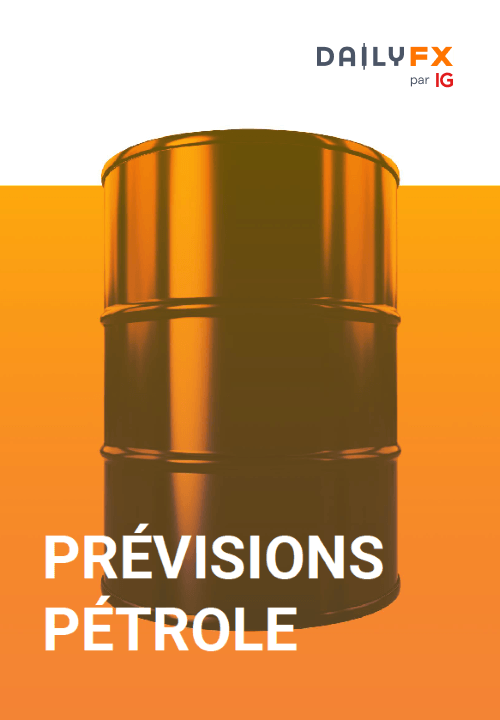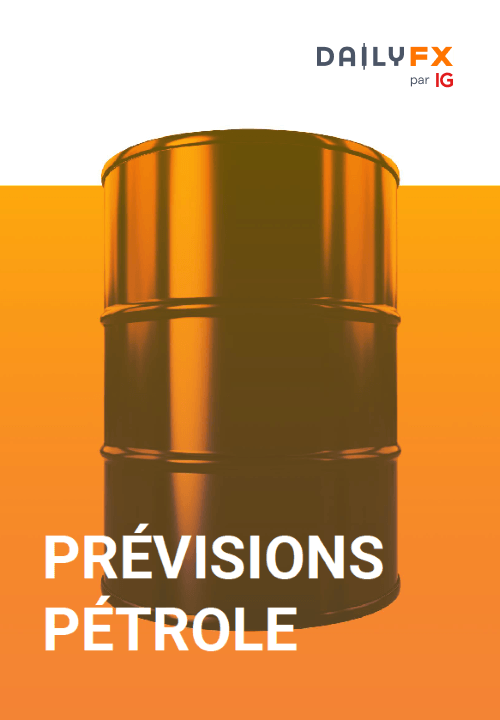 Recommandé par Joris Zanna
Recevez nos prévisions sur le pétrole
GRAPHIQUE DU JOUR –Ripple franchit une résistance clé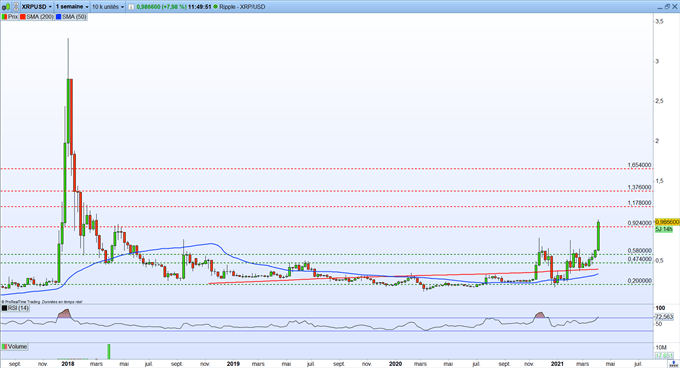 La cryptomonnaie XRP a le vent en poupe grâce à une série de bonnes nouvelles. Tout d'abord, il semblerait que les views soient assez favorables dans l'affaire qui oppose Ripple à la SEC américaine.
Ripple a conclu un accord avec la Securities and Change Fee des États-Unis pour empêcher que la correspondance électronique privée ne soit entièrement divulguée dans le cadre de son procès.
Ensuite, la publication par la société d'un publish de weblog intitulé « Making a Extra Financially Inclusive and Sustainable Future », expliquant le partenariat avec des sociétés de technologie financière, des ONGet des entrepreneurs pour créer une plus grande équité économique.
Enfin,sa récente une participation de 40% dans Tranglo, le principal spécialiste des paiements transfrontaliers en Asie.
Coté graphique, la cryptomonnaie reprend des couleurs et se hisse au-dessus d'une résistance majeure située à 0,9240$. Pour le second, les acheteurs gardent la primary nous devrions donc assister à une poursuite sur la dynamique haussière dans les jours à venir. Ainsi, la prochaine cible method se situe à 1,1780$ puis 1,3760$.
Un repli des cours vers les 0,8500$ est envisageable mais nous sommes face à un flux directionnel et impulsif. De ce fait, il préférable de se positionner dans le sens de la tendance pour accompagner ce fameux « Bull Run ».
Twitter @Joris Zanna
RESSOURCES POUR VOUS AIDER À EXPLOITER LES MARCHÉS
Si vous êtes un dealer débutant ou expérimenté, DailyFX met à votre disposition de nombreuses ressources pour vous aider :
POURSUIVRE VOTRE LECTURE
!operate(){operate e(e,t)var t,n= »undefined »!=typeof Image,i= »undefined »!=typeof self,r= »undefined »!=typeof doc,o=i?self:international;if(r){var s=doc.querySelector(« base[href] »);s&&(t=s.href)}if(!t&& »undefined »!=typeof location){var a=(t=location.href.break up(« https://www.dailyfx.com/francais/actualite_forex_trading/fondamentaux/analyses_quotidiennes/2021/04/06/# »)[0].break up(« ? »)[0]).lastIndexOf(« / »);-1!==a&&(t=t.slice(0,a+1))}var u=//g;operate c(e,t){if(-1!==e.indexOf(«  »)&&(e=e.exchange(u, »/ »)), »/ »===e[0]&& »/ »===e[1])return t.slice(0,t.indexOf(« : »)+1)+e;if(« . »===e[0]&&(« / »===e[1]|| ». »===e[1]&&(« / »===e[2]||2===e.size&&(e+= »/ »))||1===e.size&&(e+= »/ »))|| »/ »===e[0]){var n,i=t.slice(0,t.indexOf(« : »)+1);if(n= »/ »===t[i.length+1]? »file: »!==i?(n=t.slice(i.size+2)).slice(n.indexOf(« / »)+1):t.slice(8):t.slice(i.size+(« / »===t[i.length])), »/ »===e[0])return t.slice(0,t.length-n.length-1)+e;for(var r=n.slice(0,n.lastIndexOf(« / »)+1)+e,o=[],s=-1,a=0;an.size&& »/ »!==i[i.length-1]))return i+e.slice(n.size);v(« W2″,n,i, »ought to have a trailing '/' »)}}operate v(t,n,i,r){console.warn(e(t, »Bundle goal « +r+ », resolving goal ' »+i+ »' for « +n))}operate p(e,t,n){for(var i=e.scopes,r=n&&d(n,i);r;){var o=f(t,i[r]);if(o)return o;r=d(r.slice(0,r.lastIndexOf(« / »)),i)}return f(t,e.imports)||-1!==t.indexOf(« : »)&&t}var m=n&&Image.toStringTag,g=n?Image(): »@ »;operate y(){this[g]={}}var okay,b=y.prototype;operate w(e){return e.id}operate S(e,t,n,i){if(e.onload(n,t.id,t.d&&t.d.map(w),!!i),n)throw n}operate E(t,n,i){var r=t[g][n];if(r)return r;var o=[],s=Object.create(null);m&&Object.defineProperty(s,m,{worth: »Module »});var a=Promise.resolve().then(operate(){return t.instantiate(n,i)}).then(operate(i){if(!i)throw Error(e(2, »Module « +n+ » didn't instantiate »));var a=i[1](operate(e,t){r.h=!0;var n=!1;if(« string »==typeof e)e in s&&s[e]===t||(s[e]=t,n=!0);else(s[i]=t,n=!0);e.__esModule&&(s.__esModule=e.__esModule)if(n)for(var a=0;a-1){var t=doc.createEvent(« Occasion »);t.initEvent(« error »,!1,!1),n.dispatchEvent(t)}return Promise.reject(e)})}else if(« systemjs-importmap »===n.kind){n.sp=!0;var i=n.src?fetch(n.src,{integrity:n.integrity}).then(operate(e){if(!e.okay)throw Error(« Invalid standing code: « +e.standing);return e.textual content()}).catch(operate(t){return t.message=e(« W4 », »Error fetching systemjs-import map « +n.src)+ »n »+t.message,console.warn(t), »{} »}):n.innerHTML;T=T.then(operate(){return i}).then(operate(i){!operate(t,n,i){var r={};attempt{r=JSON.parse(n)}catch(o){console.warn(Error(e(« W5″, »systemjs-importmap incorporates invalid JSON »)+ »nn »+n+ »n »))}!operate(e,t,n){var i;for(i in e.imports&&h(e.imports,n.imports,t,n,null),e.scopes||{}){var r=l(i,t);h(e.scopes[i],n.scopes[r]||(n.scopes[r]={}),t,n,r)}for(i in e.depcache||{})n.depcache[l(i,t)]=e.depcache[i];for(i in e.integrity||{})n.integrity[l(i,t)]=e.integrity[i]}(r,i,t)}(P,i,n.src||t)})}})}if(b.prepareImport=operate(e),r&&(O(),window.addEventListener(« DOMContentLoaded »,O)),r){window.addEventListener(« error »,operate(e){F=e.filename,x=e.error});var I=location.origin}b.createScript=operate(e){var t=doc.createElement(« script »);t.async=!0,e.indexOf(I+ »/ »)&&(t.crossOrigin= »nameless »);var n=P.integrity[e];return n&&(t.integrity=n),t.src=e,t};var F,x,M={},D=b.register;b.register=operate(e,t){if(r&& »loading »===doc.readyState&& »string »!=typeof e){var n=doc.querySelectorAll(« script[src] »),i=n[n.length-1];if(i){i.src,L=e;var o=this;R=setTimeout(operate(){M[i.src]=[e,t],o.import(i.src)})}}else L=void 0;return D.name(this,e,t)},b.instantiate=operate(t,n){var i=M[t];if(i)return delete M[t],i;var r=this;return new Promise(operate(i,o){var s=b.createScript(t);s.addEventListener(« error »,operate(){o(Error(e(3, »Error loading « +t+(n? » from « +n: » »))))}),s.addEventListener(« load »,operate(){if(doc.head.removeChild(s),F===t)o(x);else{var e=r.getRegister();e&&e[0]===L&&clearTimeout(R),i(e)}}),doc.head.appendChild(s)})},b.shouldFetch=operate(){return!1}, »undefined »!=typeof fetch&&(b.fetch=fetch);var q=b.instantiate,H=/^(textual content|utility)/(x-)?javascript(;|$)/;b.instantiate=operate(t,n){var i=this;return this.shouldFetch(t)?this.fetch(t,{credentials: »same-origin »,integrity:P.integrity[t]}).then(operate(r){if(!r.okay)throw Error(e(7,r.standing+ » « +r.statusText+ », loading « +t+(n? » from « +n: » »)));var o=r.headers.get(« content-type »);if(!o||!H.take a look at(o))throw Error(e(4,'Unknown Content material-Sort « '+o+' », loading '+t+(n? » from « +n: » »)));return r.textual content().then(operate(e){return e.indexOf(« //# sourceURL= »)<0&&(e+="n//# sourceURL="+t),(0,eval)(e),i.getRegister()})}):q.apply(this,arguments)},b.resolve=operate(n,i){return p(P,c(n,i=i||t)||n,i)||operate(t,n){throw Error(e(8,"Unable to resolve naked specifier '"+t+(n?"' from "+n:"'")))}(n,i)};var j=b.instantiate;b.instantiate=operate(e,t){var n=P.depcache[e];if(n)for(var i=0;i<n.size;i++)E(this,this.resolve(n[i],e),e);return j.name(this,e,t)},i&&"operate"==typeof importScripts&&(b.instantiate=operate(e){var t=this;return Promise.resolve().then(operate(){return importScripts(e),t.getRegister()})}),operate(e){var t,n,i,r=e.System.constructor.prototype;var o=r.import;r.import=operate(r,s){return operate()(n=r):t=r,i=r)(),o.name(this,r,s)};var s=[[],operate(){return{}}],a=r.getRegister;r.getRegister=operate(){var o=a.name(this);if(o)return o;var u,l=operate(){var o,s,a=0;for(var u in e)if(!c(u))return s}();if(!l)return s;attempt{u=e[l]}catch(h){return s}return[[],operate(e){return{execute:operate(){e(u),e({default:u,__useDefault:!0})}}}]};var u="undefined"!=typeof navigator&&-1!==navigator.userAgent.indexOf("Trident");operate c(t)!isNaN(t)&&t<e.size}("undefined"!=typeof self?self:international),operate(e){var t=e.System.constructor.prototype,n=/^[^#?]+.(css|html|json|wasm)([?#].*)?$/;t.shouldFetch=operate(e){return n.take a look at(e)};var i=/^utility/json(;|$)/,r=/^textual content/css(;|$)/,o=/^utility/wasm(;|$)/,s=t.fetch;t.fetch=operate(t,n){return s(t,n).then(operate(n){if(!n.okay)return n;var s=n.headers.get("content-type");return i.take a look at(s)?n.json().then(operate(e){return new Response(new Blob(['System.register([],operate(e){return{execute:operate(){e("default",'+JSON.stringify(e)+")}}})"],{kind:"utility/javascript"}))}):r.take a look at(s)?n.textual content().then(operate(e){return new Response(new Blob(["System.register([],operate(e){return{execute:operate(){var s=new CSSStyleSheet();s.replaceSync("+JSON.stringify(e)+');e("default",s)}}})'],{kind:"utility/javascript"}))}):o.take a look at(s)?(WebAssembly.compileStreaming?WebAssembly.compileStreaming(n):n.arrayBuffer().then(WebAssembly.compile)).then(operate(n){e.System.wasmModules||(e.System.wasmModules=Object.create(null)),e.System.wasmModules[t]=n;var i=[],r=[];return WebAssembly.Module.imports&&WebAssembly.Module.imports(n).forEach(operate(e){var t=JSON.stringify(e.module);-1===i.indexOf(t)&&(i.push(t),r.push("operate(m){i["+t+"]=m}"))}),new Response(new Blob(["System.register(["+i.join(",")+"],operate(e){var i={};return{setters:["+r.join(",")+"],execute:operate(){return WebAssembly.instantiate(System.wasmModules["+JSON.stringify(t)+"],i).then(operate(m){e(m.exports)})}}})"],{kind:"utility/javascript"}))}):n})}}("undefined"!=typeof self?self:international);var B="undefined"!=typeof Image&&Image.toStringTag;b.get=operate(e){var t=this[g][e];if(t&&null===t.e&&!t.E)return t.er?null:t.n},b.set=operate(t,n){attempt{new URL(t)}catch(s){console.warn(Error(e("W3",'"'+t+'" just isn't a legitimate URL to set within the module registry')))}var i;B&&"Module"===n[B]?i=n:(i=Object.assign(Object.create(null),n),B&&Object.defineProperty(i,B,{worth:"Module"}));var r=Promise.resolve(i),o=this[g][t]||(this[g][t]={id:t,i:[],h:!1,d:[],e:null,er:void 0,E:void 0});return!o.e&&!o.E&&(Object.assign(o,{n:i,I:void 0,L:void 0,C:r}),i)},b.has=operate(e){return!!this[g][e]},b.delete=operate(e){var t=this[g],n=t[e];if(!n||null!==n.e||n.E)return!1;var i=n.i;return n.d&&n.d.forEach(operate(e){var t=e.i.indexOf(n);-1!==t&&e.i.splice(t,1)}),delete t[e],operate(){var n=t[e];if(!n||!i||null!==n.e||n.E)return!1;i.forEach(operate(e){n.i.push(e),e(n.n)}),i=null}};var N="undefined"!=typeof Image&&Image.iterator;b.entries=operate(){var e,t,n=this,i=Object.keys(n[g]),r=0,o={subsequent:operate(){for(;void 0!==(t=i[r++])&&void 0===(e=n.get(t)););return{performed:void 0===t,worth:void 0!==t&&[t,e]}}};return o[N]=operate(){return this},o}}(),operate(e){var t=e.System;s(t);var n,i=t.constructor.prototype,r=t.constructor,o=operate(){r.name(this),s(this)};operate s(e){e.registerRegistry=Object.create(null)}o.prototype=i,t.constructor=o;var a=i.register;i.register=operate(e,t,i){if("string"!=typeof e)return a.apply(this,arguments);var r=[t,i];return this.registerRegistry[e]=r,n||(n=r,Promise.resolve().then(operate(){n=null})),a.apply(this,arguments)};var u=i.resolve;i.resolve=operate(e,t){attempt{return u.name(this,e,t)}catch(n){if(e on this.registerRegistry)return e;throw n}};var c=i.instantiate;i.instantiate=operate(e,t){var n=this.registerRegistry[e];return n?(this.registerRegistry[e]=null,n):c.name(this,e,t)};var l=i.getRegister;i.getRegister=operate()e;return n=null,t}("undefined"!=typeof self?self:international),operate(e){"use strict";operate t(e,t){if(!(e instanceof t))throw new TypeError("Can not name a category as a operate")}operate n(e,t){for(var n=0;n<t.size;n++)!1,i.configurable=!0,"worth"in i&&(i.writable=!0),Object.defineProperty(e,i.key,i)}operate i(e,t,i){return t&&n(e.prototype,t),i&&n(e,i),e}operate r(e,t){if("operate"!=typeof t&&null!==t)throw new TypeError("Tremendous expression should both be null or a operate");e.prototype=Object.create(t&&t.prototype,{constructor:{worth:e,writable:!0,configurable:!0}}),t&&s(e,t)}operate o(e){return(o=Object.setPrototypeOf?Object.getPrototypeOf:operate(e))(e)}operate s(e,t){return(s=Object.setPrototypeOf||operate(e,t){return e.__proto__=t,e})(e,t)}operate a(e,t,n){return(a=operate(){if("undefined"==typeof Replicate||!Replicate.assemble)return!1;if(Replicate.assemble.sham)return!1;if("operate"==typeof Proxy)return!0;attempt{return Date.prototype.toString.name(Replicate.assemble(Date,[],operate(){})),!0}catch(e){return!1}}()?Replicate.assemble:operate(e,t,n){var i=[null];i.push.apply(i,t);var r=new(Perform.bind.apply(e,i));return n&&s(r,n.prototype),r}).apply(null,arguments)}operate u(e){var t="operate"==typeof Map?new Map:void 0;return(u=operate(e){if(null===e||(n=e,-1===Perform.toString.name(n).indexOf("[native code]")))return e;var n;if("operate"!=typeof e)throw new TypeError("Tremendous expression should both be null or a operate");if(void 0!==t){if(t.has(e))return t.get(e);t.set(e,i)}operate i(){return a(e,arguments,o(this).constructor)}return i.prototype=Object.create(e.prototype,{constructor:{worth:i,enumerable:!1,writable:!0,configurable:!0}}),s(i,e)})(e)}operate c(e){if(void 0===e)throw new ReferenceError("this hasn't been initialised – tremendous() hasn't been referred to as");return e}operate l(e,t,n){return(l="undefined"!=typeof Replicate&&Replicate.get?Replicate.get:operate(e,t,n){var i=operate(e,t){for(;!Object.prototype.hasOwnProperty.name(e,t)&&null!==(e=o(e)););return e}(e,t);if(i){var r=Object.getOwnPropertyDescriptor(i,t);return r.get?r.get.name(n):r.worth}})(e,t,n||e)}operate h(e,t){return t||(t=e.slice(0)),Object.freeze(Object.defineProperties(e,{uncooked:{worth:Object.freeze(t)}}))}operate d(e,t){return operate(e){if(Array.isArray(e))return e}(e)||operate(e,t){var n=[],i=!0,r=!1,o=void 0;attemptcatch(u){r=!0,o=u}lastly{attemptlastly{if(r)throw o}}return n}(e,t)||operate(){throw new TypeError("Invalid try and destructure non-iterable occasion")}()}operate f(e){return operate(e){if(Array.isArray(e)){for(var t=0,n=new Array(e.size);t<e.size;t++)n[t]=e[t];return n}}(e)||operate(e)"[object Arguments]"===Object.prototype.toString.name(e))return Array.from(e)(e)||operate(){throw new TypeError("Invalid try and unfold non-iterable occasion")}()}operate v(e,t,n,i,r){var o={};return Object.keys(i).forEach(operate(e){o[e]=i[e]}),o.enumerable=!!o.enumerable,o.configurable=!!o.configurable,("worth"in o||o.initializer)&&(o.writable=!0),o=n.slice().reverse().scale back(operate(n,i)n,o),r&&void 0!==o.initializer&&(o.worth=o.initializer?o.initializer.name(r):void 0,o.initializer=void 0),void 0===o.initializer&&(Object.defineProperty(e,t,o),o=null),o}operate p(){var e=h(["n .turbo-progress-bar {n position: fixed;n display: block;n top: 0;n left: 0;n height: 3px;n background: #0076ff;n z-index: 9999;n transition:n width ","ms ease-out,n opacity ","ms ","ms ease-in;n transform: translate3d(0, 0, 0);n }n "]);return p=operate(){return e},e}operate m(){var e=h(['n You are loading Turbo from a element inside the element. This is probably not what you meant to do!nn Load your application's JavaScript bundle inside the element instead. elements in are evaluated with each page change.nn For more information, see: https://turbo.hotwire.dev/handbook/building#working-with-script-elementsnn ——n Suppress this warning by adding a « data-turbo-suppress-warning » attribute to: %sn ']);return m=operate(){return e},e}operate g(e){return operate(){var t,n,i,r=o(e);if(operate(){if(« undefined »==typeof Replicate||!Replicate.assemble)return!1;if(Replicate.assemble.sham)return!1;if(« operate »==typeof Proxy)return!0;attempt{return Date.prototype.toString.name(Replicate.assemble(Date,[],operate(){})),!0}catch(e){return!1}}()){var s=o(this).constructor;t=Replicate.assemble(r,arguments,s)}else t=r.apply(this,arguments);return n=this,!(i=t)|| »object »!=typeof i&& »operate »!=typeof i?c(n):i}}!operate(){if(void 0!==window.Replicate&&void 0!==window.customElements&&!window.customElements.polyfillWrapFlushCallback){var e=HTMLElement,t=operate(){return Replicate.assemble(e,[],this.constructor)};window.HTMLElement=t,HTMLElement.prototype=e.prototype,HTMLElement.prototype.constructor=HTMLElement,Object.setPrototypeOf(HTMLElement,e)}}();var y,okay=new WeakMap;operate b(e){var t,n,i,r=(t=e.goal,n=t instanceof Component?t:t instanceof Node?t.parentElement:null, »submit »==(null==(i=n?n.closest(« enter, button »):null)?void 0:i.kind)?i:null);r&&r.type&&okay.set(r.type,r)} »SubmitEvent »in window||(addEventListener(« click on »,b,!0),Object.defineProperty(Occasion.prototype, »submitter »,{get:operate(){if(« submit »==this.kind&&this.goal instanceof HTMLFormElement)return okay.get(this.goal)}})),operate(e){e.keen= »keen »,e.lazy= »lazy »}(y||(y={}));var w=operate(e){r(o,u(HTMLElement));var n=g(o);operate o(){var e;return t(this,o),(e=n.name(this)).loaded=Promise.resolve(),e.delegate=new o.delegateConstructor(c(e)),e}return i(o,[{key: »connectedCallback »,value:function(){this.delegate.connect()}},{key: »disconnectedCallback »,value:function(){this.delegate.disconnect()}},{key: »attributeChangedCallback »,value:function(e){« loading »==e?this.delegate.loadingStyleChanged(): »src »==e&&this.delegate.sourceURLChanged()}},{key: »src »,get:function(){return this.getAttribute(« src »)},set:function(e){e?this.setAttribute(« src »,e):this.removeAttribute(« src »)}},{key: »loading »,get:function(){return function(e){switch(e.toLowerCase()){case »lazy »:return y.lazy;default:return y.eager}}(this.getAttribute(« loading »)|| » »)},set:function(e){e?this.setAttribute(« loading »,e):this.removeAttribute(« loading »)}},{key: »disabled »,get:function(){return this.hasAttribute(« disabled »)},set:function(e){e?this.setAttribute(« disabled », » »):this.removeAttribute(« disabled »)}},{key: »autoscroll »,get:function(){return this.hasAttribute(« autoscroll »)},set:function(e){e?this.setAttribute(« autoscroll », » »):this.removeAttribute(« autoscroll »)}},{key: »complete »,get:function(){return!this.delegate.isLoading}},{key: »isActive »,get:function(){return this.ownerDocument===document&&!this.isPreview}},{key: »isPreview »,get:function()void 0===t?void 0:t.hasAttribute(« data-turbo-preview »)}],[{key: »observedAttributes »,get:function(){return[« loading », »src »]}}]),o}();operate S(e){var t=doc.createElement(« a »);return t.href=e.toString(),new URL(t.href)}operate E(e){var t;return e.hash?e.hash.slice(1):(t=e.href.match(/#(.*)$/))?t[1]: » »}operate C(e){return(operate(e){return operate(e){return e.pathname.break up(« / »).slice(1)}(e).slice(-1)[0]}(e).match(/.[^.]*$/)||[])[0]|| » »}operate L(e,t){var n=operate(e){return t=e.origin+e.pathname,t.endsWith(« / »)?t:t+ »/ »;var t}(t);return e.href===S(n).href||e.href.startsWith(n)}operate R(e){var t=e.hash.size;return t=400&&this.statusCode=500&&this.statusCode1&&void 0!==arguments[1]?arguments[1]:{},n=t.goal,i=t.cancelable,r=t.element,o=new CustomEvent(e,{cancelable:i,bubbles:!0,element:r});return(n||doc.documentElement).dispatchEvent(o),o}operate O(){return new Promise(operate(e){return requestAnimationFrame(operate(){return e()})})}operate I(){var e=arguments.size>0&&void 0!==arguments[0]?arguments[0]: » »;return(new DOMParser).parseFromString(e, »textual content/html »)}operate F(e){for(var t=arguments.size,n=new Array(t>1?t-1:0),i=1;i3&&void 0!==arguments[3]?arguments[3]:new URLSearchParams;t(this,e),this.abortController=new AbortController,this.delegate=n,this.methodology=i,this.isIdempotent?this.url=operate(e,t){var n=new URLSearchParams(e.search),i=!0,r=!1,o=void 0;attempt{for(var s,a=t[Symbol.iterator]();!(i=(s=a.subsequent()).performed);i=!0)}catch(f){r=!0,o=f}lastly{attemptlastly{if(r)throw o}}return e}(r,f(o.entries())):(this.physique=o,this.url=r)}return i(e,[{key: »cancel »,value:function(){this.abortController.abort()}},{key: »perform »,value:async function(){var e=this.fetchOptions;A(« turbo:before-fetch-request »,{detail:{fetchOptions:e}});try{this.delegate.requestStarted(this);var t=await fetch(this.url.href,e);return await this.receive(t)}catch(n){throw this.delegate.requestErrored(this,n),n}finally{this.delegate.requestFinished(this)}}},{key: »receive »,value:async function(e){var t=new P(e);return A(« turbo:before-fetch-response »,{cancelable:!0,detail:{fetchResponse:t}}).defaultPrevented?this.delegate.requestPreventedHandlingResponse(this,t):t.succeeded?this.delegate.requestSucceededWithResponse(this,t):this.delegate.requestFailedWithResponse(this,t),t}},{key: »location »,get:function(){return this.url}},{key: »params »,get:function(){return this.url.searchParams}},{key: »entries »,get:function(){return this.body?Array.from(this.body.entries()):[]}},{key: »fetchOptions »,get:operate(){return{methodology:T[this.method].toUpperCase(),credentials: »same-origin »,headers:this.headers,redirect: »comply with »,physique:this.physique,sign:this.abortSignal}}},{key: »isIdempotent »,get:operate(){return this.methodology==T.get}},{key: »headers »,get:operate(){var e=Object.assign({},this.defaultHeaders);return »operate »==typeof this.delegate.prepareHeadersForRequest&&this.delegate.prepareHeadersForRequest(e,this),e}},{key: »abortSignal »,get:operate(){return this.abortController.sign}},{key: »defaultHeaders »,get:operate(){return{Settle for: »textual content/html, utility/xhtml+xml »}}}]),e}();var D,q,H=operate(){operate e(n,i){var r=this;t(this,e),this.began=!1,this.intersect=operate(e){var t=e.slice(-1)[0];(null==t?void 0:t.isIntersecting)&&r.delegate.elementAppearedInViewport(r.ingredient)},this.delegate=n,this.ingredient=i,this.intersectionObserver=new IntersectionObserver(this.intersect)}return i(e,[{key: »start »,value:function()(this.started=!0,this.intersectionObserver.observe(this.element))},{key: »stop »,value:function(){this.started&&(this.started=!1,this.intersectionObserver.unobserve(this.element))}}]),e}(),j=operate(){operate e(n){t(this,e),this.templateElement=doc.createElement(« template »),this.templateElement.innerHTML=n}return i(e,[{key: »fragment »,get:function(){var e=document.createDocumentFragment(),t=!0,n=!1,i=void 0;try{for(var r,o=this.foreignElements[Symbol.iterator]();!(t=(r=o.subsequent()).performed);t=!0){var s=r.worth;e.appendChild(doc.importNode(s,!0))}}catch(a){n=!0,i=a}lastly{attemptlastly{if(n)throw i}}return e}},{key: »foreignElements »,get:operate(){return this.templateChildren.scale back(operate(e,t){return »turbo-stream »==t.tagName.toLowerCase()?[].concat(f(e),[t]):e},[])}},{key: »templateChildren »,get:operate(){return Array.from(this.templateElement.content material.kids)}}],[{key: »wrap »,value:function(e){return »string »==typeof e?new this(e):e}}]),e}();j.contentType= »textual content/vnd.turbo-stream.html »,operate(e){e[e.initialized=0]= »initialized »,e[e.requesting=1]= »requesting »,e[e.waiting=2]= »ready »,e[e.receiving=3]= »receiving »,e[e.stopping=4]= »stopping »,e[e.stopped=5]= »stopped »}(D||(D={})),operate(e){e.urlEncoded= »utility/x-www-form-urlencoded »,e.multipart= »multipart/form-data »,e.plain= »textual content/plain »}(q||(q={}));var B=operate(){operate e(n,i,r){var o=arguments.size>3&&void 0!==arguments[3]&&arguments[3];t(this,e),this.state=D.initialized,this.delegate=n,this.formElement=i,this.submitter=r,this.formData=operate(e,t) » »);return n(i,r),this.fetchRequest=new M(this,this.methodology,this.location,this.physique),this.mustRedirect=o}return i(e,[{key: »start »,value:async function(){var e=D,t=e.initialized,n=e.requesting;if(this.state==t)return this.state=n,this.fetchRequest.perform()}},{key: »stop »,value:function(){var e=D,t=e.stopping,n=e.stopped;if(this.state!=t&&this.state!=n)return this.state=t,this.fetchRequest.cancel(),!0}},{key: »prepareHeadersForRequest »,value:function(e,t){if(!t.isIdempotent){var n=function(e){if(null!=e){var t=document.cookie?document.cookie.split(« ; « ):[],n=t.discover(operate(t){return t.startsWith(e)});if(n){var i=n.break up(« = »).slice(1).be part of(« = »);return i?decodeURIComponent(i):void 0}}}(N(« csrf-param »))||N(« csrf-token »);n&&(e[« X-CSRF-Token »]=n),e.Settle for=[j.contentType,e.Accept].be part of(« , « )}}},{key: »requestStarted »,worth:operate(e){this.state=D.ready,A(« turbo:submit-start »,{goal:this.formElement,element:{formSubmission:this}}),this.delegate.formSubmissionStarted(this)}},{key: »requestPreventedHandlingResponse »,worth:operate(e,t){this.end result={success:t.succeeded,fetchResponse:t}}},{key: »requestSucceededWithResponse »,worth:operate(e,t){if(t.clientError||t.serverError)this.delegate.formSubmissionFailedWithResponse(this,t);else if(this.requestMustRedirect(e)&&operate(e){return 200==e.statusCode&&!e.redirected}(t)){var n=new Error(« Type responses should redirect to a different location »);this.delegate.formSubmissionErrored(this,n)}else this.state=D.receiving,this.end result={success:!0,fetchResponse:t},this.delegate.formSubmissionSucceededWithResponse(this,t)}},{key: »requestFailedWithResponse »,worth:operate(e,t){this.end result={success:!1,fetchResponse:t},this.delegate.formSubmissionFailedWithResponse(this,t)}},{key: »requestErrored »,worth:operate(e,t){this.end result={success:!1,error:t},this.delegate.formSubmissionErrored(this,t)}},{key: »requestFinished »,worth:operate(e){this.state=D.stopped,A(« turbo:submit-end »,{goal:this.formElement,element:Object.assign({formSubmission:this},this.end result)}),this.delegate.formSubmissionFinished(this)}},{key: »requestMustRedirect »,worth:operate(e){return!e.isIdempotent&&this.mustRedirect}},{key: »methodology »,get:operate(){var e;return operate(e){swap(e.toLowerCase()){case »get »:return T.get;case »publish »:return T.publish;case »put »:return T.put;case »patch »:return T.patch;case »delete »:return T.delete}}(((null===(e=this.submitter)||void 0===e?void 0:e.getAttribute(« formmethod »))||this.formElement.getAttribute(« methodology »)|| » »).toLowerCase())||T.get}},{key: »motion »,get:operate()void 0===e?void 0:e.getAttribute(« formaction »))},{key: »location »,get:operate(){return S(this.motion)}},{key: »physique »,get:operate()},{key: »enctype »,get:operate(){var e;return operate(e){swap(e.toLowerCase()){case q.multipart:return q.multipart;case q.plain:return q.plain;default:return q.urlEncoded}}((null===(e=this.submitter)||void 0===e?void 0:e.getAttribute(« formenctype »))||this.formElement.enctype)}},{key: »stringFormData »,get:operate(){return f(this.formData).scale back(operate(e,t){var n=d(t,2),i=n[0],r=n[1];return e.concat(« string »==typeof r?[[i,r]]:[])},[])}}]),e}();operate N(e){var t=doc.querySelector('meta[name= »'.concat(e,' »]'));return t&&t.content material}var _=operate(){operate e(n){t(this,e),this.ingredient=n}return i(e,[{key: »hasAnchor »,value:function(e){return null!=this.getElementForAnchor(e)}},{key: »getElementForAnchor »,value:function(e){try{return this.element.querySelector(« [id=' ».concat(e, »'], a[name= » »).concat(e, » »] »))}catch(t){return null}}},{key: »getPermanentElementById »,worth:operate(e){return this.ingredient.querySelector(« https://www.dailyfx.com/francais/actualite_forex_trading/fondamentaux/analyses_quotidiennes/2021/04/06/# ».concat(e, »[data-turbo-permanent] »))}},{key: »getPermanentElementsPresentInSnapshot »,worth:operate(e){return this.permanentElements.filter(operate(t){var n=t.id;return e.getPermanentElementById(n)})}},{key: »kids »,get:operate(){return f(this.ingredient.kids)}},{key: »firstAutofocusableElement »,get:operate(){return this.ingredient.querySelector(« [autofocus] »)}},{key: »permanentElements »,get:operate(){return f(this.ingredient.querySelectorAll(« [id][data-turbo-permanent] »))}}]),e}(),V=operate(){operate e(n,i){var r=this;t(this,e),this.submitBubbled=operate(e){if(e.goal instanceof HTMLFormElement)},this.delegate=n,this.ingredient=i}return i(e,[{key: »start »,value:function(){this.element.addEventListener(« submit »,this.submitBubbled)}},{key: »stop »,value:function(){this.element.removeEventListener(« submit »,this.submitBubbled)}}]),e}(),W=operate(){operate e(n,i){t(this,e),this.delegate=n,this.ingredient=i}return i(e,[{key: »scrollToAnchor »,value:function(e){var t=this.snapshot.getElementForAnchor(e);t?this.scrollToElement(t):this.scrollToPosition({x:0,y:0})}},{key: »scrollToElement »,value:function(e){e.scrollIntoView()}},{key: »scrollToPosition »,value:function(e){var t=e.x,n=e.y;this.scrollRoot.scrollTo(t,n)}},{key: »render »,value:async function(e){if(this.renderer)throw new Error(« rendering is already in progress »);var t=e.isPreview,n=e.shouldRender,i=e.newSnapshot;if(n)try{this.renderer=e,this.prepareToRenderSnapshot(e),this.delegate.viewWillRenderSnapshot(i,t),await this.renderSnapshot(e),this.delegate.viewRenderedSnapshot(i,t),this.finishRenderingSnapshot(e)}finally{delete this.renderer}else this.invalidate()}},{key: »invalidate »,value:function(){this.delegate.viewInvalidated()}},{key: »prepareToRenderSnapshot »,value:function(e){this.markAsPreview(e.isPreview),e.prepareToRender()}},{key: »markAsPreview »,value:function(e){e?this.element.setAttribute(« data-turbo-preview », » »):this.element.removeAttribute(« data-turbo-preview »)}},{key: »renderSnapshot »,value:async function(e){await e.render()}},{key: »finishRenderingSnapshot »,value:function(e){e.finishRendering()}},{key: »scrollRoot »,get:function(){return window}}]),e}(),U=operate(e){r(o,W);var n=g(o);operate o(){return t(this,o),n.apply(this,arguments)}return i(o,[{key: »invalidate »,value:function(){this.element.innerHTML= » »}},{key: »snapshot »,get:function(){return new _(this.element)}}]),o}(),G=operate(){operate e(n,i){var r=this;t(this,e),this.clickBubbled=operate(e){r.respondsToEventTarget(e.goal)?r.clickEvent=e:delete r.clickEvent},this.linkClicked=operate(e){r.clickEvent&&r.respondsToEventTarget(e.goal)&&e.goal instanceof Component&&r.delegate.shouldInterceptLinkClick(e.goal,e.element.url)&&(r.clickEvent.preventDefault(),e.preventDefault(),r.delegate.linkClickIntercepted(e.goal,e.element.url)),delete r.clickEvent},this.willVisit=operate(){delete r.clickEvent},this.delegate=n,this.ingredient=i}return i(e,[{key: »start »,value:function(){this.element.addEventListener(« click »,this.clickBubbled),document.addEventListener(« turbo:click »,this.linkClicked),document.addEventListener(« turbo:before-visit »,this.willVisit)}},{key: »stop »,value:function(){this.element.removeEventListener(« click »,this.clickBubbled),document.removeEventListener(« turbo:click »,this.linkClicked),document.removeEventListener(« turbo:before-visit »,this.willVisit)}},{key: »respondsToEventTarget »,value:function(e){var t=e instanceof Element?e:e instanceof Node?e.parentElement:null;return t&&t.closest(« turbo-frame, html »)==this.element}}]),e}(),z=operate(){operate e(n,i,r){var o=this;t(this,e),this.currentSnapshot=n,this.newSnapshot=i,this.isPreview=r,this.promise=new Promise(operate(e,t){return o.resolvingFunctions={resolve:e,reject:t}})}return i(e,[{key: »prepareToRender »,value:function(){}},{key: »finishRendering »,value:function(){this.resolvingFunctions&&(this.resolvingFunctions.resolve(),delete this.resolvingFunctions)}},{key: »createScriptElement »,value:function(e){if(« false »==e.getAttribute(« data-turbo-eval »))return e;var t=document.createElement(« script »);return t.textContent=e.textContent,t.async=!1,function(e,t){for(var n=0,i=f(t.attributes);n<i.length;n++){var r=i[n],o=r.identify,s=r.worth;e.setAttribute(o,s)}}(t,e),t}},{key:"preservingPermanentElements",worth:operate(e){var t,n,i=(t=this.currentSnapshot,n=this.newSnapshot,t.getPermanentElementsPresentInSnapshot(n).scale back(operate(e,t){var i=n.getPermanentElementById(t.id);if(i){var r=operate(e){var t=doc.createElement("meta");return t.setAttribute("identify","turbo-permanent-placeholder"),t.setAttribute("content material",e.id),{ingredient:t,permanentElement:e}}(t);return J(t,r.ingredient),J(i,t),[].concat(f(e),[r])}return e},[]));e(),operate(e){var t=!0,n=!1,i=void 0;attempt{for(var r,o=e[Symbol.iterator]();!(t=(r=o.subsequent()).performed);t=!0){var s=r.worth,a=s.ingredient,u=s.permanentElement,c=u.cloneNode(!0);J(a,c)}}catch(l){n=!0,i=l}lastly{attemptlastly{if(n)throw i}}}(i)}},{key:"focusFirstAutofocusableElement",worth:operate(){var e=this.newSnapshot.firstAutofocusableElement;(operate(e){return e&&"operate"==typeof e.focus})(e)&&e.focus()}},{key:"shouldRender",get:operate(){return!0}},{key:"currentElement",get:operate(){return this.currentSnapshot.ingredient}},{key:"newElement",get:operate(){return this.newSnapshot.ingredient}}]),e}();operate J(e,t){var n=e.parentElement;if(n)return n.replaceChild(t,e)}var Y=operate(e){r(o,z);var n=g(o);operate o(){return t(this,o),n.apply(this,arguments)}return i(o,[{key:"render",value:async function(){var e=this;await O(),this.preservingPermanentElements(function(){e.loadFrameElement()}),this.scrollFrameIntoView(),await O(),this.focusFirstAutofocusableElement()}},{key:"loadFrameElement",value:function()},{key:"scrollFrameIntoView",value:function(){if(this.currentElement.autoscroll||this.newElement.autoscroll){var e=this.currentElement.firstElementChild,t=(n=this.currentElement.getAttribute("data-autoscroll-block"),i="end","end"==n||"start"==n||"center"==n||"nearest"==n?n:i);if(e)return e.scrollIntoView({block:t}),!0}var n,i;return!1}},{key:"shouldRender",get:function(){return!0}}]),o}();var X=operate(){operate e(n){t(this,e),this.resolveVisitPromise=operate(){},this.ingredient=n,this.view=new U(this,this.ingredient),this.appearanceObserver=new H(this,this.ingredient),this.linkInterceptor=new G(this,this.ingredient),this.formInterceptor=new V(this,this.ingredient)}return i(e,[{key:"connect",value:function(){this.loadingStyle==y.lazy&&this.appearanceObserver.start(),this.linkInterceptor.start(),this.formInterceptor.start()}},{key:"disconnect",value:function(){this.appearanceObserver.stop(),this.linkInterceptor.stop(),this.formInterceptor.stop()}},{key:"sourceURLChanged",value:function(){this.loadingStyle==y.eager&&this.loadSourceURL()}},{key:"loadingStyleChanged",value:function(){this.loadingStyle==y.lazy?this.appearanceObserver.start():(this.appearanceObserver.stop(),this.loadSourceURL())}},{key:"loadSourceURL",value:async function(){if(this.isActive&&this.sourceURL&&this.sourceURL!=this.loadingURL)try{this.loadingURL=this.sourceURL,this.element.loaded=this.visit(this.sourceURL),this.appearanceObserver.stop(),await this.element.loaded}finally{delete this.loadingURL}}},{key:"loadResponse",value:async function(e){try{var t=await e.responseHTML;if(t){var n=I(t).body,i=new _(await this.extractForeignFrameElement(n)),r=new Y(this.view.snapshot,i,!1);await this.view.render(r)}}catch(o){console.error(o),this.view.invalidate()}}},{key:"elementAppearedInViewport",value:function(e){this.loadSourceURL()}},{key:"shouldInterceptLinkClick",value:function(e,t){return this.shouldInterceptNavigation(e)}},{key:"linkClickIntercepted",value:function(e,t){this.navigateFrame(e,t)}},{key:"shouldInterceptFormSubmission",value:function(e){return this.shouldInterceptNavigation(e)}},{key:"formSubmissionIntercepted",value:function(e,t){this.formSubmission&&this.formSubmission.stop(),this.formSubmission=new B(this,e,t),this.formSubmission.fetchRequest.isIdempotent?this.navigateFrame(e,this.formSubmission.fetchRequest.url.href):this.formSubmission.start()}},{key:"prepareHeadersForRequest",value:function(e,t){e["Turbo-Frame"]=this.id}},{key:"requestStarted",worth:operate(e){this.ingredient.setAttribute("busy","")}},{key:"requestPreventedHandlingResponse",worth:operate(e,t){this.resolveVisitPromise()}},{key:"requestSucceededWithResponse",worth:async operate(e,t){await this.loadResponse(t),this.resolveVisitPromise()}},{key:"requestFailedWithResponse",worth:operate(e,t){console.error(t),this.resolveVisitPromise()}},{key:"requestErrored",worth:operate(e,t){console.error(t),this.resolveVisitPromise()}},{key:"requestFinished",worth:operate(e){this.ingredient.removeAttribute("busy")}},{key:"formSubmissionStarted",worth:operate(e){}},{key:"formSubmissionSucceededWithResponse",worth:operate(e,t){this.findFrameElement(e.formElement).delegate.loadResponse(t)}},{key:"formSubmissionFailedWithResponse",worth:operate(e,t){this.ingredient.delegate.loadResponse(t)}},{key:"formSubmissionErrored",worth:operate(e,t){}},{key:"formSubmissionFinished",worth:operate(e){}},{key:"viewWillRenderSnapshot",worth:operate(e,t){}},{key:"viewRenderedSnapshot",worth:operate(e,t){}},{key:"viewInvalidated",worth:operate(){}},{key:"go to",worth:async operate(e){var t=this,n=new M(this,T.get,S(e));return new Promise(operate(e){t.resolveVisitPromise=operate(){t.resolveVisitPromise=operate(){},e()},n.carry out()})}},{key:"navigateFrame",worth:operate(e,t){this.findFrameElement(e).src=t}},{key:"findFrameElement",worth:operate(e)},{key:"extractForeignFrameElement",worth:async operate(e){var t,n=CSS.escape(this.id);return(t=Q(e.querySelector("turbo-frame#".concat(n))))?t:(t=Q(e.querySelector("turbo-frame[src][recurse~=".concat(n,"]"))))?(await t.loaded,await this.extractForeignFrameElement(t)):(console.error('Response has no matching ingredient')),new w)}},{key: »shouldInterceptNavigation »,worth:operate(e){var t=e.getAttribute(« data-turbo-frame »)||this.ingredient.getAttribute(« goal »);if(!this.enabled|| »_top »==t)return!1;if(t){var n=Ok(t);if(n)return!n.disabled}return!0}},{key: »id »,get:operate(){return this.ingredient.id}},{key: »enabled »,get:operate(){return!this.ingredient.disabled}},{key: »sourceURL »,get:operate(){return this.ingredient.src}},{key: »loadingStyle »,get:operate(){return this.ingredient.loading}},{key: »isLoading »,get:operate()void 0!==this.loadingURL},{key: »isActive »,get:operate(){return this.ingredient.isActive}}]),e}();operate Ok(e){if(null!=e){var t=doc.getElementById(e);if(t instanceof w)return t}}operate Q(e){if(e&&e.ownerDocument!==doc&&(e=doc.importNode(e,!0)),e instanceof w)return e}var Z={append:operate()void 0===e,prepend:operate(),take away:operate(),exchange:operate()e.replaceWith(this.templateContent),replace:operate(){this.targetElement&&(this.targetElement.innerHTML= » »,this.targetElement.append(this.templateContent))}},ee=operate(e){r(o,u(HTMLElement));var n=g(o);operate o(){return t(this,o),n.apply(this,arguments)}return i(o,[{key: »connectedCallback »,value:async function(){try{await this.render()}catch(e){console.error(e)}finally{this.disconnect()}}},{key: »render »,value:async function(){var e,t=this;return null!==(e=this.renderPromise)&&void 0!==e?e:this.renderPromise=async function(){t.dispatchEvent(t.beforeRenderEvent)&&(await O(),t.performAction())}()}},{key: »disconnect »,value:function(){try{this.remove()}catch(e){}}},{key: »raise »,value:function(e){throw new Error(«  ».concat(this.description, »: « ).concat(e))}},{key: »performAction »,get:function(){if(this.action){var e=Z[this.action];if(e)return e;this.increase(« unknown motion »)}this.increase(« motion attribute is lacking »)}},{key: »targetElement »,get:operate()},{key: »templateContent »,get:operate(){return this.templateElement.content material}},{key: »templateElement »,get:operate(){if(this.firstElementChild instanceof HTMLTemplateElement)return this.firstElementChild;this.increase(« first little one ingredient have to be a ingredient »)}},{key: »motion »,get:operate(){return this.getAttribute(« motion »)}},{key: »goal »,get:operate(){return this.getAttribute(« goal »)}},{key: »description »,get:operate(){var e,t;return null!==(t=(null!==(e=this.outerHTML.match(/]+>/))&&void 0!==e?e:[])[0])&&void 0!==t?t: » »}},{key: »beforeRenderEvent »,get:operate(){return new CustomEvent(« turbo:before-stream-render »,{bubbles:!0,cancelable:!0})}}]),o}();w.delegateConstructor=X,customElements.outline(« turbo-frame »,w),customElements.outline(« turbo-stream »,ee),operate(){var e=doc.currentScript;if(e&&!e.hasAttribute(« data-turbo-suppress-warning »))for(;e=e.parentElement;)if(e==doc.physique)return console.warn(F(m()),e.outerHTML)}();var te=operate(){operate e(){var n=this;t(this,e),this.hiding=!1,this.worth=0,this.seen=!1,this.trickle=operate(){n.setValue(n.worth+Math.random()/100)},this.stylesheetElement=this.createStylesheetElement(),this.progressElement=this.createProgressElement(),this.installStylesheetElement(),this.setValue(0)}return i(e,[{key: »show »,value:function()},{key: »hide »,value:function(){var e=this;this.visible&&!this.hiding&&(this.hiding=!0,this.fadeProgressElement(function(){e.uninstallProgressElement(),e.stopTrickling(),e.visible=!1,e.hiding=!1}))}},{key: »setValue »,value:function(e){this.value=e,this.refresh()}},{key: »installStylesheetElement »,value:function(){document.head.insertBefore(this.stylesheetElement,document.head.firstChild)}},{key: »installProgressElement »,value:function(){this.progressElement.style.width= »0″,this.progressElement.style.opacity= »1″,document.documentElement.insertBefore(this.progressElement,document.body),this.refresh()}},{key: »fadeProgressElement »,value:function(t){this.progressElement.style.opacity= »0″,setTimeout(t,1.5*e.animationDuration)}},{key: »uninstallProgressElement »,value:function(){this.progressElement.parentNode&&document.documentElement.removeChild(this.progressElement)}},{key: »startTrickling »,value:function()(this.trickleInterval=window.setInterval(this.trickle,e.animationDuration))},{key: »stopTrickling »,value:function(){window.clearInterval(this.trickleInterval),delete this.trickleInterval}},{key: »refresh »,value:function(){var e=this;requestAnimationFrame(function(){e.progressElement.style.width= » ».concat(10+90*e.value, »% »)})}},{key: »createStylesheetElement »,value:function(){var t=document.createElement(« style »);return t.type= »text/css »,t.textContent=e.defaultCSS,t}},{key: »createProgressElement »,value:function(){var e=document.createElement(« div »);return e.className= »turbo-progress-bar »,e}}],[{key: »defaultCSS »,get:function(){return F(p(),e.animationDuration,e.animationDuration/2,e.animationDuration/2)}}]),e}();te.animationDuration=300;var ne=operate(e){r(o,_);var n=g(o);operate o(){var e;return t(this,o),(e=n.apply(this,arguments)).detailsByOuterHTML=e.kids.scale back(operate(e,t){var n,i,r,o=t.outerHTML,s=o in e?e[o]:{kind:operate(e){if(operate(e){return »script »==e.tagName.toLowerCase()}(e))return »script »;if(operate(e)(e))return »stylesheet »}(t),tracked:operate(e){return »reload »==e.getAttribute(« data-turbo-track »)}(t),components:[]};return Object.assign(Object.assign({},e),(n={},i=o,r=Object.assign(Object.assign({},s),{components:[].concat(f(s.components),[t])}),i in n?Object.defineProperty(n,i,{worth:r,enumerable:!0,configurable:!0,writable:!0}):n[i]=r,n))},{}),e}return i(o,[{key: »getScriptElementsNotInSnapshot »,value:function(e){return this.getElementsMatchingTypeNotInSnapshot(« script »,e)}},{key: »getStylesheetElementsNotInSnapshot »,value:function(e){return this.getElementsMatchingTypeNotInSnapshot(« stylesheet »,e)}},{key: »getElementsMatchingTypeNotInSnapshot »,value:function(e,t){var n=this;return Object.keys(this.detailsByOuterHTML).filter(function(e){return!(e in t.detailsByOuterHTML)}).map(function(e){return n.detailsByOuterHTML[e]}).filter(operate(t){return t.kind==e}).map(operate(e){return d(e.components,1)[0]})}},{key: »getMetaValue »,worth:operate(e){var t=this.findMetaElementByName(e);return t?t.getAttribute(« content material »):null}},{key: »findMetaElementByName »,worth:operate(e){var t=this;return Object.keys(this.detailsByOuterHTML).scale back(operate(n,i){var r=d(t.detailsByOuterHTML[i].components,1)[0];return operate(e,t){return »meta »==e.tagName.toLowerCase()&&e.getAttribute(« identify »)==t}(r,e)?r:n},void 0)}},{key: »trackedElementSignature »,get:operate(){var e=this;return Object.keys(this.detailsByOuterHTML).filter(operate(t){return e.detailsByOuterHTML[t].tracked}).be part of(«  »)}},{key: »provisionalElements »,get:operate(){var e=this;return Object.keys(this.detailsByOuterHTML).scale back(operate(t,n)o?s.size>1?[].concat(f(t),f(s.slice(1))):t:[].concat(f(t),f(s)),[])}}]),o}();var ie,re,oe=operate(e){r(o,_);var n=g(o);operate o(e,i){var r;return t(this,o),(r=n.name(this,e)).headSnapshot=i,r}return i(o,[{key: »clone »,value:function(){return new o(this.element.cloneNode(!0),this.headSnapshot)}},{key: »getSetting »,value:function(e){return this.headSnapshot.getMetaValue(« turbo-« .concat(e))}},{key: »headElement »,get:function(){return this.headSnapshot.element}},{key: »rootLocation »,get:function(){var e;return S(null!==(e=this.getSetting(« root »))&&void 0!==e?e: »/ »)}},{key: »cacheControlValue »,get:function(){return this.getSetting(« cache-control »)}},{key: »isPreviewable »,get:function(){return »no-preview »!=this.cacheControlValue}},{key: »isCacheable »,get:function(){return »no-cache »!=this.cacheControlValue}},{key: »isVisitable »,get:function(){return »reload »!=this.getSetting(« visit-control »)}}],[{key: »fromHTMLString »,value:function(){var e=arguments.length>0&&void 0!==arguments[0]?arguments[0]: » »;return this.fromDocument(I(e))}},{key: »fromElement »,worth:operate(e){return this.fromDocument(e.ownerDocument)}},{key: »fromDocument »,worth:operate(e){var t=e.head;return new this(e.physique,new ne(t))}}]),o}();!operate(e){e.visitStart= »visitStart »,e.requestStart= »requestStart »,e.requestEnd= »requestEnd »,e.visitEnd= »visitEnd »}(ie||(ie={})),operate(e){e.initialized= »initialized »,e.began= »began »,e.canceled= »canceled »,e.failed= »failed »,e.accomplished= »accomplished »}(re||(re={}));var se,ae={motion: »advance »,historyChanged:!1};!operate(e){e[e.networkFailure=0]= »networkFailure »,e[e.timeoutFailure=-1]= »timeoutFailure »,e[e.contentTypeMismatch=-2]= »contentTypeMismatch »}(se||(se={}));var ue=operate(){operate e(n,i,r){var o=arguments.size>3&&void 0!==arguments[3]?arguments[3]:{};t(this,e),this.identifier=x(),this.timingMetrics={},this.followedRedirect=!1,this.historyChanged=!1,this.scrolled=!1,this.snapshotCached=!1,this.state=re.initialized,this.delegate=n,this.location=i,this.restorationIdentifier=r||x();var s=Object.assign(Object.assign({},ae),o),a=s.motion,u=s.historyChanged,c=s.referrer,l=s.snapshotHTML,h=s.response;this.motion=a,this.historyChanged=u,this.referrer=c,this.snapshotHTML=l,this.response=h}return i(e,[{key: »start »,value:function(){this.state==re.initialized&&(this.recordTimingMetric(ie.visitStart),this.state=re.started,this.adapter.visitStarted(this),this.delegate.visitStarted(this))}},{key: »cancel »,value:function(){this.state==re.started&&(this.request&&this.request.cancel(),this.cancelRender(),this.state=re.canceled)}},{key: »complete »,value:function(){this.state==re.started&&(this.recordTimingMetric(ie.visitEnd),this.state=re.completed,this.adapter.visitCompleted(this),this.delegate.visitCompleted(this))}},{key: »fail »,value:function(){this.state==re.started&&(this.state=re.failed,this.adapter.visitFailed(this))}},{key: »changeHistory »,value:function(){var e;if(!this.historyChanged)}},{key: »issueRequest »,value:function(){this.hasPreloadedResponse()?this.simulateRequest():this.shouldIssueRequest()&&!this.request&&(this.request=new M(this,T.get,this.location),this.request.perform())}},{key: »simulateRequest »,value:function(){this.response&&(this.startRequest(),this.recordResponse(),this.finishRequest())}},{key: »startRequest »,value:function(){this.recordTimingMetric(ie.requestStart),this.adapter.visitRequestStarted(this)}},{key: »recordResponse »,value:function(){var e=arguments.length>0&&void 0!==arguments[0]?arguments[0]:this.response;if(this.response=e,e){var t=e.statusCode;ce(t)?this.adapter.visitRequestCompleted(this):this.adapter.visitRequestFailedWithStatusCode(this,t)}}},{key: »finishRequest »,worth:operate(){this.recordTimingMetric(ie.requestEnd),this.adapter.visitRequestFinished(this)}},{key: »loadResponse »,worth:operate(){var e=this;if(this.response){var t=this.response,n=t.statusCode,i=t.responseHTML;this.render(async operate(){e.cacheSnapshot(),ce(n)&&null!=i?(await e.view.renderPage(oe.fromHTMLString(i)),e.adapter.visitRendered(e),e.full()):(await e.view.renderError(oe.fromHTMLString(i)),e.adapter.visitRendered(e),e.fail())})}}},{key: »getCachedSnapshot »,worth:operate()},{key: »getPreloadedSnapshot »,worth:operate(){if(this.snapshotHTML)return oe.fromHTMLString(this.snapshotHTML)}},{key: »hasCachedSnapshot »,worth:operate(){return null!=this.getCachedSnapshot()}},{key: »loadCachedSnapshot »,worth:operate(){var e=this,t=this.getCachedSnapshot();if(t){var n=this.shouldIssueRequest();this.render(async operate())}}},{key: »followRedirect »,worth:operate(){this.redirectedToLocation&&!this.followedRedirect&&(this.location=this.redirectedToLocation,this.historical past.exchange(this.redirectedToLocation,this.restorationIdentifier),this.followedRedirect=!0)}},{key: »requestStarted »,worth:operate(){this.startRequest()}},{key: »requestPreventedHandlingResponse »,worth:operate(e,t){}},{key: »requestSucceededWithResponse »,worth:async operate(e,t){var n=await t.responseHTML;null==n?this.recordResponse({statusCode:se.contentTypeMismatch}):(this.redirectedToLocation=t.redirected?t.location:void 0,this.recordResponse({statusCode:t.statusCode,responseHTML:n}))}},{key: »requestFailedWithResponse »,worth:async operate(e,t){var n=await t.responseHTML;null==n?this.recordResponse({statusCode:se.contentTypeMismatch}):this.recordResponse({statusCode:t.statusCode,responseHTML:n})}},{key: »requestErrored »,worth:operate(e,t){this.recordResponse({statusCode:se.networkFailure})}},{key: »requestFinished »,worth:operate(){this.finishRequest()}},{key: »performScroll »,worth:operate()},{key: »scrollToRestoredPosition »,worth:operate(){var e=this.restorationData.scrollPosition;if(e)return this.view.scrollToPosition(e),!0}},{key: »scrollToAnchor »,worth:operate(){if(null!=E(this.location))return this.view.scrollToAnchor(E(this.location)),!0}},{key: »scrollToTop »,worth:operate(){this.view.scrollToPosition({x:0,y:0})}},{key: »recordTimingMetric »,worth:operate(e){this.timingMetrics[e]=(new Date).getTime()}},{key: »getTimingMetrics »,worth:operate(){return Object.assign({},this.timingMetrics)}},{key: »getHistoryMethodForAction »,worth:operate(e){swap(e){case »exchange »:return historical past.replaceState;case »advance »:case »restore »:return historical past.pushState}}},{key: »hasPreloadedResponse »,worth:operate(){return »object »==typeof this.response}},{key: »shouldIssueRequest »,worth:operate()},{key: »cacheSnapshot »,worth:operate()},{key: »render »,worth:async operate(e){var t=this;this.cancelRender(),await new Promise(operate(e){t.body=requestAnimationFrame(operate(){return e()})}),e(),delete this.body,this.performScroll()}},{key: »cancelRender »,worth:operate(){this.body&&(cancelAnimationFrame(this.body),delete this.body)}},{key: »adapter »,get:operate(){return this.delegate.adapter}},{key: »view »,get:operate(){return this.delegate.view}},{key: »historical past »,get:operate(){return this.delegate.historical past}},{key: »restorationData »,get:operate(){return this.historical past.getRestorationDataForIdentifier(this.restorationIdentifier)}}]),e}();operate ce(e){return e>=200&&e2&&void 0!==arguments[2]?arguments[2]:x(),i={turbo:{restorationIdentifier:n}};e.name(historical past,i, » »,t.href),this.location=t,this.restorationIdentifier=n}},{key: »getRestorationDataForIdentifier »,worth:operate(e){return this.restorationData[e]||{}}},{key: »updateRestorationData »,worth:operate(e){var t=this.restorationIdentifier,n=this.restorationData[t];this.restorationData[t]=Object.assign(Object.assign({},n),e)}},{key: »assumeControlOfScrollRestoration »,worth:operate()(this.previousScrollRestoration=null!==(e=historical past.scrollRestoration)&&void 0!==e?e: »auto »,historical past.scrollRestoration= »guide »)},{key: »relinquishControlOfScrollRestoration »,worth:operate(){this.previousScrollRestoration&&(historical past.scrollRestoration=this.previousScrollRestoration,delete this.previousScrollRestoration)}},{key: »shouldHandlePopState »,worth:operate(){return this.pageIsLoaded()}},{key: »pageIsLoaded »,worth:operate()}]),e}(),pe=operate(){operate e(n){var i=this;t(this,e),this.began=!1,this.clickCaptured=operate(){removeEventListener(« click on »,i.clickBubbled,!1),addEventListener(« click on »,i.clickBubbled,!1)},this.clickBubbled=operate(e){if(i.clickEventIsSignificant(e)){var t=i.findLinkFromClickTarget(e.goal);if(t){var n=i.getLocationForLink(t);i.delegate.willFollowLinkToLocation(t,n)&&(e.preventDefault(),i.delegate.followedLinkToLocation(t,n))}}},this.delegate=n}return i(e,[{key: »start »,value:function()(addEventListener(« click »,this.clickCaptured,!0),this.started=!0)},{key: »stop »,value:function(){this.started&&(removeEventListener(« click »,this.clickCaptured,!0),this.started=!1)}},{key: »clickEventIsSignificant »,value:function(e)},{key: »findLinkFromClickTarget »,value:function(e){if(e instanceof Element)return e.closest(« a[href]:not([target^=_]):not([download]) »)}},{key: »getLocationForLink »,worth:operate(e)}]),e}(),me=operate(){operate e(n){t(this,e),this.delegate=n}return i(e,[{key: »proposeVisit »,value:function(e){var t=arguments.length>1&&void 0!==arguments[1]?arguments[1]:{};this.delegate.allowsVisitingLocation(e)&&this.delegate.visitProposedToLocation(e,t)}},{key: »startVisit »,worth:operate(e,t){var n=arguments.size>2&&void 0!==arguments[2]?arguments[2]:{};this.cease(),this.currentVisit=new ue(this,S(e),t,Object.assign({referrer:this.location},n)),this.currentVisit.begin()}},{key: »submitForm »,worth:operate(e,t){this.cease(),this.formSubmission=new B(this,e,t,!0),this.formSubmission.fetchRequest.isIdempotent?this.proposeVisit(this.formSubmission.fetchRequest.url):this.formSubmission.begin()}},{key: »cease »,worth:operate(){this.formSubmission&&(this.formSubmission.cease(),delete this.formSubmission),this.currentVisit&&(this.currentVisit.cancel(),delete this.currentVisit)}},{key: »formSubmissionStarted »,worth:operate(e){}},{key: »formSubmissionSucceededWithResponse »,worth:async operate(e,t){if(e==this.formSubmission){var n=await t.responseHTML;if(n){e.methodology!=T.get&&this.view.clearSnapshotCache();var i={response:{statusCode:t.statusCode,responseHTML:n}};this.proposeVisit(t.location,i)}}}},{key: »formSubmissionFailedWithResponse »,worth:async operate(e,t){var n=await t.responseHTML;if(n){var i=oe.fromHTMLString(n);await this.view.renderPage(i),this.view.clearSnapshotCache()}}},{key: »formSubmissionErrored »,worth:operate(e,t){}},{key: »formSubmissionFinished »,worth:operate(e){}},{key: »visitStarted »,worth:operate(e){this.delegate.visitStarted(e)}},{key: »visitCompleted »,worth:operate(e){this.delegate.visitCompleted(e)}},{key: »adapter »,get:operate(){return this.delegate.adapter}},{key: »view »,get:operate(){return this.delegate.view}},{key: »historical past »,get:operate(){return this.delegate.historical past}},{key: »location »,get:operate(){return this.historical past.location}},{key: »restorationIdentifier »,get:operate(){return this.historical past.restorationIdentifier}}]),e}();!operate(e){e[e.initial=0]= »preliminary »,e[e.loading=1]= »loading »,e[e.interactive=2]= »interactive »,e[e.complete=3]= »full »}(le||(le={}));var ge=operate(){operate e(n){var i=this;t(this,e),this.stage=le.preliminary,this.began=!1,this.interpretReadyState=operate(){var e=i.readyState; »interactive »==e?i.pageIsInteractive(): »full »==e&&i.pageIsComplete()},this.pageWillUnload=operate(){i.delegate.pageWillUnload()},this.delegate=n}return i(e,[{key: »start »,value:function()(this.stage==le.initial&&(this.stage=le.loading),document.addEventListener(« readystatechange »,this.interpretReadyState,!1),addEventListener(« pagehide »,this.pageWillUnload,!1),this.started=!0)},{key: »stop »,value:function(){this.started&&(document.removeEventListener(« readystatechange »,this.interpretReadyState,!1),removeEventListener(« pagehide »,this.pageWillUnload,!1),this.started=!1)}},{key: »pageIsInteractive »,value:function(){this.stage==le.loading&&(this.stage=le.interactive,this.delegate.pageBecameInteractive())}},{key: »pageIsComplete »,value:function(){this.pageIsInteractive(),this.stage==le.interactive&&(this.stage=le.complete,this.delegate.pageLoaded())}},{key: »readyState »,get:function(){return document.readyState}}]),e}(),ye=operate(){operate e(n){var i=this;t(this,e),this.began=!1,this.onScroll=operate(){i.updatePosition({x:window.pageXOffset,y:window.pageYOffset})},this.delegate=n}return i(e,[{key: »start »,value:function()},{key: »stop »,value:function(){this.started&&(removeEventListener(« scroll »,this.onScroll,!1),this.started=!1)}},{key: »updatePosition »,value:function(e){this.delegate.scrollPositionChanged(e)}}]),e}(),ke=operate(){operate e(n){var i=this;t(this,e),this.sources=new Set,this.began=!1,this.inspectFetchResponse=operate(e){var t=operate(e)(e);t&&operate(e){var t;return(null!==(t=e.contentType)&&void 0!==t?t: » »).startsWith(j.contentType)}(t)&&(e.preventDefault(),i.receiveMessageResponse(t))},this.receiveMessageEvent=operate(e){i.began&& »string »==typeof e.information&&i.receiveMessageHTML(e.information)},this.delegate=n}return i(e,[{key: »start »,value:function()},{key: »stop »,value:function(){this.started&&(this.started=!1,removeEventListener(« turbo:before-fetch-response »,this.inspectFetchResponse,!1))}},{key: »connectStreamSource »,value:function(e)},{key: »disconnectStreamSource »,value:function(e){this.streamSourceIsConnected(e)&&(this.sources.delete(e),e.removeEventListener(« message »,this.receiveMessageEvent,!1))}},{key: »streamSourceIsConnected »,value:function(e){return this.sources.has(e)}},{key: »receiveMessageResponse »,value:async function(e){var t=await e.responseHTML;t&&this.receiveMessageHTML(t)}},{key: »receiveMessageHTML »,value:function(e){this.delegate.receivedMessageFromStream(new j(e))}}]),e}();var be=operate(e){r(o,z);var n=g(o);operate o(){return t(this,o),n.apply(this,arguments)}return i(o,[{key: »render »,value:async function(){this.replaceHeadAndBody(),this.activateScriptElements()}},{key: »replaceHeadAndBody »,value:function(){var e=document,t=e.documentElement,n=e.head,i=e.body;t.replaceChild(this.newHead,n),t.replaceChild(this.newElement,i)}},{key: »activateScriptElements »,value:function(){var e=!0,t=!1,n=void 0;try{for(var i,r=this.scriptElements[Symbol.iterator]();!(e=(i=r.subsequent()).performed);e=!0){var o=i.worth,s=o.parentNode;if(s){var a=this.createScriptElement(o);s.replaceChild(a,o)}}}catch(u){t=!0,n=u}lastly{attemptnull==r.returnlastly{if(t)throw n}}}},{key: »newHead »,get:operate(){return this.newSnapshot.headSnapshot.ingredient}},{key: »scriptElements »,get:operate(){return f(doc.documentElement.querySelectorAll(« script »))}}]),o}(),we=operate(e){r(s,z);var n=g(s);operate s(){return t(this,s),n.apply(this,arguments)}return i(s,[{key: »prepareToRender »,value:function(){this.mergeHead()}},{key: »render »,value:async function(){this.replaceBody()}},{key: »finishRendering »,value:function(){l(o(s.prototype), »finishRendering »,this).call(this),this.isPreview&&this.focusFirstAutofocusableElement()}},{key: »mergeHead »,value:function(){this.copyNewHeadStylesheetElements(),this.copyNewHeadScriptElements(),this.removeCurrentHeadProvisionalElements(),this.copyNewHeadProvisionalElements()}},{key: »replaceBody »,value:function(){var e=this;this.preservingPermanentElements(function(){e.activateNewBody(),e.assignNewBody()})}},{key: »copyNewHeadStylesheetElements »,value:function(){var e=!0,t=!1,n=void 0;try{for(var i,r=this.newHeadStylesheetElements[Symbol.iterator]();!(e=(i=r.subsequent()).performed);e=!0){var o=i.worth;doc.head.appendChild(o)}}catch(s){t=!0,n=s}lastly{attemptnull==r.returnlastly{if(t)throw n}}}},{key: »copyNewHeadScriptElements »,worth:operate(){var e=!0,t=!1,n=void 0;attempt{for(var i,r=this.newHeadScriptElements[Symbol.iterator]();!(e=(i=r.subsequent()).performed);e=!0){var o=i.worth;doc.head.appendChild(this.createScriptElement(o))}}catch(s){t=!0,n=s}lastly{attemptnull==r.returnlastly{if(t)throw n}}}},{key: »removeCurrentHeadProvisionalElements »,worth:operate(){var e=!0,t=!1,n=void 0;attempt{for(var i,r=this.currentHeadProvisionalElements[Symbol.iterator]();!(e=(i=r.subsequent()).performed);e=!0){var o=i.worth;doc.head.removeChild(o)}}catch(s){t=!0,n=s}lastly{attemptnull==r.returnlastly{if(t)throw n}}}},{key: »copyNewHeadProvisionalElements »,worth:operate(){var e=!0,t=!1,n=void 0;attempt{for(var i,r=this.newHeadProvisionalElements[Symbol.iterator]();!(e=(i=r.subsequent()).performed);e=!0){var o=i.worth;doc.head.appendChild(o)}}catch(s){t=!0,n=s}lastly{attemptnull==r.returnlastly{if(t)throw n}}}},{key: »activateNewBody »,worth:operate(){doc.adoptNode(this.newElement),this.activateNewBodyScriptElements()}},{key: »activateNewBodyScriptElements »,worth:operate(){var e=!0,t=!1,n=void 0;attempt{for(var i,r=this.newBodyScriptElements[Symbol.iterator]();!(e=(i=r.subsequent()).performed);e=!0){var o=i.worth;J(o,this.createScriptElement(o))}}catch(s){t=!0,n=s}lastly{attemptnull==r.returnlastly{if(t)throw n}}}},{key: »assignNewBody »,worth:operate(){doc.physique&&this.newElement instanceof HTMLBodyElement?J(doc.physique,this.newElement):doc.documentElement.appendChild(this.newElement)}},{key: »shouldRender »,get:operate(){return this.newSnapshot.isVisitable&&this.trackedElementsAreIdentical}},{key: »currentHeadSnapshot »,get:operate(){return this.currentSnapshot.headSnapshot}},{key: »newHeadSnapshot »,get:operate(){return this.newSnapshot.headSnapshot}},{key: »newElement »,get:operate(){return this.newSnapshot.ingredient}},{key: »trackedElementsAreIdentical »,get:operate(){return this.currentHeadSnapshot.trackedElementSignature==this.newHeadSnapshot.trackedElementSignature}},{key: »newHeadStylesheetElements »,get:operate(){return this.newHeadSnapshot.getStylesheetElementsNotInSnapshot(this.currentHeadSnapshot)}},{key: »newHeadScriptElements »,get:operate(){return this.newHeadSnapshot.getScriptElementsNotInSnapshot(this.currentHeadSnapshot)}},{key: »currentHeadProvisionalElements »,get:operate(){return this.currentHeadSnapshot.provisionalElements}},{key: »newHeadProvisionalElements »,get:operate(){return this.newHeadSnapshot.provisionalElements}},{key: »newBodyScriptElements »,get:operate(){return f(this.newElement.querySelectorAll(« script »))}}]),s}(),Se=operate(){operate e(n){t(this,e),this.keys=[],this.snapshots={},this.measurement=n}return i(e,[{key: »has »,value:function(e){return R(e)in this.snapshots}},{key: »get »,value:function(e){if(this.has(e)){var t=this.read(e);return this.touch(e),t}}},{key: »put »,value:function(e,t){return this.write(e,t),this.touch(e),t}},{key: »clear »,value:function(){this.snapshots={}}},{key: »read »,value:function(e){return this.snapshots[R(e)]}},{key: »write »,worth:operate(e,t){this.snapshots[R(e)]=t}},{key: »contact »,worth:operate(e){var t=R(e),n=this.keys.indexOf(t);n>-1&&this.keys.splice(n,1),this.keys.unshift(t),this.trim()}},{key: »trim »,worth:operate(){var e=!0,t=!1,n=void 0;attempt{for(var i,r=this.keys.splice(this.measurement)[Symbol.iterator]();!(e=(i=r.subsequent()).performed);e=!0){var o=i.worth;delete this.snapshots[o]}}catch(s){t=!0,n=s}lastly{attemptnull==r.returnlastly{if(t)throw n}}}}]),e}(),Ee=operate(e){r(o,W);var n=g(o);operate o(){var e;return t(this,o),(e=n.apply(this,arguments)).snapshotCache=new Se(10),e.lastRenderedLocation=new URL(location.href),e}return i(o,[{key: »renderPage »,value:function(e){var t=arguments.length>1&&void 0!==arguments[1]&&arguments[1],n=new we(this.snapshot,e,t);return this.render(n)}},{key: »renderError »,worth:operate(e){var t=new be(this.snapshot,e,!1);this.render(t)}},{key: »clearSnapshotCache »,worth:operate(){this.snapshotCache.clear()}},{key: »cacheSnapshot »,worth:async operate(){if(this.shouldCacheSnapshot){this.delegate.viewWillCacheSnapshot();var e=this.snapshot,t=this.lastRenderedLocation;await new Promise(operate(e){return setTimeout(operate(){return e()},0)}),this.snapshotCache.put(t,e.clone())}}},{key: »getCachedSnapshotForLocation »,worth:operate(e){return this.snapshotCache.get(e)}},{key: »snapshot »,get:operate(){return oe.fromElement(this.ingredient)}},{key: »shouldCacheSnapshot »,get:operate(){return this.snapshot.isCacheable}}]),o}();operate Ce(e){Object.defineProperties(e,Le)}var Le={absoluteURL:{get:operate(){return this.toString()}}},Re=new(operate(){operate e(){t(this,e),this.navigator=new me(this),this.historical past=new ve(this),this.view=new Ee(this,doc.documentElement),this.adapter=new he(this),this.pageObserver=new ge(this),this.linkClickObserver=new pe(this),this.formSubmitObserver=new de(this),this.scrollObserver=new ye(this),this.streamObserver=new ke(this),this.frameRedirector=new fe(doc.documentElement),this.enabled=!0,this.progressBarDelay=500,this.began=!1}return i(e,[{key: »start »,value:function()(this.pageObserver.start(),this.linkClickObserver.start(),this.formSubmitObserver.start(),this.scrollObserver.start(),this.streamObserver.start(),this.frameRedirector.start(),this.history.start(),this.started=!0,this.enabled=!0)},{key: »disable »,value:function(){this.enabled=!1}},{key: »stop »,value:function(){this.started&&(this.pageObserver.stop(),this.linkClickObserver.stop(),this.formSubmitObserver.stop(),this.scrollObserver.stop(),this.streamObserver.stop(),this.frameRedirector.stop(),this.history.stop(),this.started=!1)}},{key: »registerAdapter »,value:function(e){this.adapter=e}},{key: »visit »,value:function(e){var t=arguments.length>1&&void 0!==arguments[1]?arguments[1]:{};this.navigator.proposeVisit(S(e),t)}},{key: »connectStreamSource »,worth:operate(e){this.streamObserver.connectStreamSource(e)}},{key: »disconnectStreamSource »,worth:operate(e){this.streamObserver.disconnectStreamSource(e)}},{key: »renderStreamMessage »,worth:operate(e){doc.documentElement.appendChild(j.wrap(e).fragment)}},{key: »clearCache »,worth:operate(){this.view.clearSnapshotCache()}},{key: »setProgressBarDelay »,worth:operate(e){this.progressBarDelay=e}},{key: »historyPoppedToLocationWithRestorationIdentifier »,worth:operate(e){this.enabled?this.navigator.proposeVisit(e,{motion: »restore »,historyChanged:!0}):this.adapter.pageInvalidated()}},{key: »scrollPositionChanged »,worth:operate(e){this.historical past.updateRestorationData({scrollPosition:e})}},{key: »willFollowLinkToLocation »,worth:operate(e,t){return this.elementIsNavigable(e)&&this.locationIsVisitable(t)&&this.applicationAllowsFollowingLinkToLocation(e,t)}},{key: »followedLinkToLocation »,worth:operate(e,t){var n=this.getActionForLink(e);this.go to(t.href,{motion:n})}},{key: »allowsVisitingLocation »,worth:operate(e){return this.applicationAllowsVisitingLocation(e)}},{key: »visitProposedToLocation »,worth:operate(e,t){Ce(e),this.adapter.visitProposedToLocation(e,t)}},{key: »visitStarted »,worth:operate(e){Ce(e.location),this.notifyApplicationAfterVisitingLocation(e.location)}},{key: »visitCompleted »,worth:operate(e){this.notifyApplicationAfterPageLoad(e.getTimingMetrics())}},{key: »willSubmitForm »,worth:operate(e,t){return this.elementIsNavigable(e)&&this.elementIsNavigable(t)}},{key: »formSubmitted »,worth:operate(e,t){this.navigator.submitForm(e,t)}},{key: »pageBecameInteractive »,worth:operate(){this.view.lastRenderedLocation=this.location,this.notifyApplicationAfterPageLoad()}},{key: »pageLoaded »,worth:operate(){this.historical past.assumeControlOfScrollRestoration()}},{key: »pageWillUnload »,worth:operate(){this.historical past.relinquishControlOfScrollRestoration()}},{key: »receivedMessageFromStream »,worth:operate(e){this.renderStreamMessage(e)}},{key: »viewWillCacheSnapshot »,worth:operate(){this.notifyApplicationBeforeCachingSnapshot()}},{key: »viewWillRenderSnapshot »,worth:operate(e,t){var n=e.ingredient;this.notifyApplicationBeforeRender(n)}},{key: »viewRenderedSnapshot »,worth:operate(e,t){this.view.lastRenderedLocation=this.historical past.location,this.notifyApplicationAfterRender()}},{key: »viewInvalidated »,worth:operate(){this.adapter.pageInvalidated()}},{key: »applicationAllowsFollowingLinkToLocation »,worth:operate(e,t){return!this.notifyApplicationAfterClickingLinkToLocation(e,t).defaultPrevented}},{key: »applicationAllowsVisitingLocation »,worth:operate(e){return!this.notifyApplicationBeforeVisitingLocation(e).defaultPrevented}},{key: »notifyApplicationAfterClickingLinkToLocation »,worth:operate(e,t){return A(« turbo:click on »,{goal:e,element:{url:t.href},cancelable:!0})}},{key: »notifyApplicationBeforeVisitingLocation »,worth:operate(e){return A(« turbo:before-visit »,{element:{url:e.href},cancelable:!0})}},{key: »notifyApplicationAfterVisitingLocation »,worth:operate(e){return A(« turbo:go to »,{element:{url:e.href}})}},{key: »notifyApplicationBeforeCachingSnapshot »,worth:operate(){return A(« turbo:before-cache »)}},{key: »notifyApplicationBeforeRender »,worth:operate(e){return A(« turbo:before-render »,{element:{newBody:e}})}},{key: »notifyApplicationAfterRender »,worth:operate(){return A(« turbo:render »)}},{key: »notifyApplicationAfterPageLoad »,worth:operate(){var e=arguments.size>0&&void 0!==arguments[0]?arguments[0]:{};return A(« turbo:load »,{element:{url:this.location.href,timing:e}})}},{key: »getActionForLink »,worth:operate(e){var t=e.getAttribute(« data-turbo-action »);return operate(e) »restore »==e(t)?t: »advance »}},{key: »elementIsNavigable »,worth:operate(e) »false »!=t.getAttribute(« data-turbo »)},{key: »locationIsVisitable »,worth:operate(e).(?:htm},{key: »location »,get:operate(){return this.historical past.location}},{key: »restorationIdentifier »,get:operate(){return this.historical past.restorationIdentifier}},{key: »snapshot »,get:operate(){return this.view.snapshot}}]),e}()),Te=Re.navigator;operate Pe(){Re.begin()}Pe();var Ae,Oe,Ie,Fe,xe,Me,De,qe,He=Object.freeze({__proto__:null,clearCache:operate(){Re.clearCache()},connectStreamSource:operate(e){Re.connectStreamSource(e)},disconnectStreamSource:operate(e){Re.disconnectStreamSource(e)},navigator:Te,registerAdapter:operate(e){Re.registerAdapter(e)},renderStreamMessage:operate(e){Re.renderStreamMessage(e)},setProgressBarDelay:operate(e){Re.setProgressBarDelay(e)},begin:Pe,go to:operate(e,t){Re.go to(e,t)}}),je=operate(){var e=arguments.size>0&&void 0!==arguments[0]&&arguments[0];return operate(t,n,i){var r=this,o=i.worth;return i.worth=operate(){var i= »occasion: ».concat(n);if(e){doc.addEventListener(« turbo:go to »,operate e(){t[i]&&(t[i]=void 0),doc.removeEventListener(« turbo:go to »,e)})}if(t[i])return t[i];for(var s=arguments.size,a=new Array(s),u=0;u4&&void 0!==arguments[4])||arguments[4],o= » ».concat(e, »= »).concat(t); »string »==typeof n&&(o+= »;expires= ».concat(n)), »string »==typeof i&&(o+= »;area= ».concat(i)),o+= »; path=/ »,r&& »https: »===location.protocol&&(o+= »; safe »),doc.cookie=o}},{key: »deleteCookie »,worth:operate(e){this.setCookie(e, » », »Thu, 01 Jan 1970 00:00:00 UTC »)}},{key: »getLocalStorageOrCookie »,worth:operate(e){var t;return this.isLocalStorageAvailable&&null!==(t=this.localStorage.getItem(e))&&void 0!==t?t:this.getCookie(e)}},{key: »setLocalStorageOrCookie »,worth:operate(e,t,n,i){this.isLocalStorageAvailable?this.localStorage.setItem(e,t):this.setCookie(e,t,n,i)}},{key: »deleteLocalStorageOrCookie »,worth:operate(e){this.isLocalStorageAvailable?this.localStorage.removeItem(e):this.deleteCookie(e)}}]),e}(),Ne=(Ae=je(),v(Oe=operate(){operate e(){t(this,e)}return i(e,null,[{key: »create »,value:function(){return new Be(window.localStorage)}}]),e}(), »create »,[Ae],Object.getOwnPropertyDescriptor(Oe, »create »),Oe),Oe),_e=operate(){operate e(n){t(this,e),this.dfxLocalStorageCookieManager=n}return i(e,[{key: »getLevel »,value:function(){if(this.permissionLevel)return this.permissionLevel;var e=this.dfxLocalStorageCookieManager.getLocalStorageOrCookie(« dfx-cookies-level »),t=this._normalizeValue(e);return this.permissionLevel=t,t}},{key: »_normalizeValue »,value:function(e){var t=parseInt(e);return isNaN(t)&&(t=3),t}},{key: »checkLevel »,value:function(e){return this.getLevel()>=e}}]),e}(),Ve=(Ie=je(),v(Fe=operate(){operate e(){t(this,e)}return i(e,null,[{key: »create »,value:function(){return new _e(Ne.create())}}]),e}(), »create »,[Ie],Object.getOwnPropertyDescriptor(Fe, »create »),Fe),Fe),We= » ».concat(« dfx-redirectData », »_expiresIn »),Ue=new Map([[« GB », »UK »]]),Ge=operate(){operate e(n,i){t(this,e),this.geoJsUrl=n,this.dfxLocalStorageCookieManager=i}return i(e,[{key: »init »,value:function(){var e=this;return this.getRedirectData().then(function(e){return Ue.has(e.country)&&(e.country=Ue.get(e.country)),e}).then(function(t){e.redirectData=t,e._setBodyClasses()._setLocationToStorage()})}},{key: »getRedirectData »,value:function(){var e,t=this;return this.loadingState=null!==(e=this.loadingState)&&void 0!==e?e:new Promise(function(e){t.redirectData?e(t.redirectData):(t.redirectData=t._getLocationFromStorage(),t.redirectData?e(t.redirectData):e(t._loadRedirectData()))}),this.loadingState}},{key: »_loadRedirectData »,value:function(){var e=this;return new Promise(function(t){var n=document.createElement(« script »);n.onload=function(){e.redirectData=window.redirectData,t(e.redirectData)},n.setAttribute(« src »,e.geoJsUrl),document.head.appendChild(n)})}},{key: »_setBodyClasses »,value:function(){var e=this.redirectData.country.toLowerCase();return document.body?(document.body.classList.remove(« dfx-country-pending »),document.body.classList.add(« dfx-country-« .concat(e))):document.addEventListener(« DOMContentLoaded »,function(){document.body.classList.remove(« dfx-country-pending »),document.body.classList.add(« dfx-country-« .concat(e))},!1),this}},{key: »_getLocationFromStorage »,value:function(){var e,t=this.dfxLocalStorageCookieManager.getLocalStorageOrCookie(We);if(t&&t>Date.now())return JSON.parse(null!==(e=this.dfxLocalStorageCookieManager.getLocalStorageOrCookie(« dfx-redirectData »))&&void 0!==e&&e)}},{key: »_setLocationToStorage »,value:function(){var e=new Date;return e.setTime(e.getTime()+6048e5),this.dfxLocalStorageCookieManager.setLocalStorageOrCookie(« dfx-redirectData »,JSON.stringify(this.redirectData),e.toUTCString()),this.dfxLocalStorageCookieManager.setLocalStorageOrCookie(We,e.getTime(),e.toUTCString()),this}}]),e}(),ze=(xe=je(),v(Me=operate(){operate e(){t(this,e)}return i(e,null,[{key: »create »,value:function(){return new Ge(window.DFX_ENDPOINTS.geoJs,Ne.create())}}]),e}(), »create »,[xe],Object.getOwnPropertyDescriptor(Me, »create »),Me),Me),Je=operate(){operate e(n){t(this,e),this.config=n}return i(e,[{key: »get »,value:function(e){return this.config.get(e)}},{key: »set »,value:function(e,t)}]),e}(),Ye=operate(){operate e(){t(this,e)}return i(e,null,[{key: »create »,value:function(){var e=Object.assign({},window.DFX_CONFIG,window.DFX_ENDPOINTS),t=new Map(Object.entries(e));return new Je(t)}}]),e}().create(),$e={OFF: »off »,LOADING: »loading »,READY: »prepared »},Xe= »pixel »,Ke= »GPT »,Qe= »GTM »,Ze= »adobe_tracking »,et= »taboola_pixel »,tt=operate(){operate e(n,i,r,o){var s=this;t(this,e),this.config=r,this.allowedTrackingsConfig=o,this.dfxGdprChecker=n,this.dfxLocalStorageCookieManager=i,this._setDefaultStates()._resetAssetClasses()._resetInstruments()._resetCategories()._resetSitecatConfig(),doc.addEventListener(« turbo:go to »,operate(){$(« head script »).filter(operate(e,t)).take away(),s.adobeTrackingState=$e.OFF,s._resetAssetClasses()._resetInstruments()._resetCategories()._resetSitecatConfig()})}return i(e,[{key: »_setDefaultStates »,value:function(){return this.adobeTrackingState=$e.OFF,this.pixelState=$e.OFF,this.gptState=$e.OFF,this.gtmState=$e.OFF,this.taboolaState=$e.OFF,this}},{key: »_resetInstruments »,value:function(){return this.gptInstrumentPairs=new Set,this}},{key: »_resetCategories »,value:function(){return this.gptCategories={category: » »,subCategory: » »},this}},{key: »_resetAssetClasses »,value:function(){return this.gptAssetClasses=new Set,this}},{key: »_resetSitecatConfig »,value:function(){return this.sitecatConfig={mainReportSuite:this.config.mainReportSuite,reportSuite:this.config.reportSuite,organisationId:this.config.organisationId},this}},{key: »createAdobeTracking »,value:function(e){var t=this;return this.dfxGdprChecker.checkLevel(2)&&this.allowedTrackingsConfig[Ze]&&this.adobeTrackingState===$e.OFF?(this.adobeTrackingState=$e.LOADING,window.System.import(e).then(operate(e){var n=e.DfxAdobeTracking;t.dfxAdobeTracking=new n(t.sitecatConfig,t.dfxGdprChecker,t.dfxLocalStorageCookieManager),t.adobeTrackingState=$e.READY,t.runAdobeTracking()}),this):this}},{key: »runAdobeTracking »,worth:operate(){var e=this;return this.dfxGdprChecker.checkLevel(2)?(this.adobeTrackingState===$e.READY?(this.dfxAdobeTracking.resetTrackingObject(),this.dfxAdobeTracking.init()):setTimeout(operate(){return e.runAdobeTracking()},400),this):this}},{key: »trackAdobeEvent »,worth:operate(e,t,n){var i=this;return this.dfxGdprChecker.checkLevel(2)&&this.allowedTrackingsConfig[Ze]?(this.adobeTrackingState===$e.READY?this.dfxAdobeTracking.trackEvent(e,t,n):setTimeout(operate(){return i.trackAdobeEvent(e,t,n)},400),this):this}},{key: »getPageNameForAdobeTracking »,worth:operate(){return this.adobeTrackingState===$e.READY&&this.dfxAdobeTracking.getPageName()}},{key: »addSitecatConfig »,worth:operate(e,t){return this.dfxGdprChecker.checkLevel(2)?(this.sitecatConfig[e]=t,this):this}},{key: »createFacebookPixel »,worth:operate(){var e=this;if(!this.dfxGdprChecker.checkLevel(3))return this;if(!this.allowedTrackingsConfig[Xe]||this.pixelState!==$e.OFF)return this;this.pixelState=$e.LOADING;var t,n,i,r,o,s,a;return t=operate(){e.pixelState=$e.READY},n=window,i=doc,r= »script »,n.fbq||(o=n.fbq=operate(){o.callMethod?o.callMethod.apply(o,arguments):o.queue.push(arguments)},n._fbq||(n._fbq=o),o.push=o,o.loaded=!0,o.model= »2.0″,o.queue=[],(s=i.createElement(r)).async=!0,s.onload=t,s.src= »https://join.fb.web/en_US/fbevents.js »,(a=i.getElementsByTagName(r)[0]).parentNode.insertBefore(s,a)),this.fbq=window.fbq,this.fbq(« init »,Ye.get(« facebookPixelId »)),this}},{key: »facebookPixelTrack »,worth:operate(e){return this.dfxGdprChecker.checkLevel(3)&&this.allowedTrackingsConfig[Xe]?(this.pixelState===$e.OFF&&this.createFacebookPixel(),this.fbq(« observe »,e),this):this}},{key: »facebookPixelTrackPageView »,worth:operate(){return this.dfxGdprChecker.checkLevel(3)?(this.facebookPixelTrack(« PageView »),this):this}},{key: »facebookPixelTrackLead »,worth:operate(){return this.dfxGdprChecker.checkLevel(3)?(this.facebookPixelTrack(« Lead »),this):this}},{key: »createGTM »,worth:operate(){var e=this;if(!this.dfxGdprChecker.checkLevel(1))return this;if(!this.allowedTrackingsConfig[Qe]||this.gtmState!==$e.OFF)return this;this.gtmState=$e.LOADING;var t=operate(){e.gtmState=$e.READY};return operate(e,n,i,r,o){e[r]=e[r]||[],e[r].push({« gtm.begin »:(new Date).getTime(),occasion: »gtm.js »});var s=n.getElementsByTagName(i)[0],a=n.createElement(i);a.async=!0,a.src= »https://www.googletagmanager.com/gtm.js?id= »+o,a.onload=t,s.parentNode.insertBefore(a,s)}(window,doc, »script », »dataLayer »,Ye.get(« tagManagerId »)),this}},{key: »createGPT »,worth:operate(){var e=this;if(!this.dfxGdprChecker.checkLevel(1))return this;if(!this.allowedTrackingsConfig[Ke]||this.gptState!==$e.OFF)return this;this.gptState=$e.LOADING;var t=operate(){e.gptState=$e.READY},n=window.googletag||{cmd:[]};return operate(){var e=doc.createElement(« script »);e.async=!0,e.kind= »textual content/javascript »;var n= »https: »===doc.location.protocol;e.src=(n? »https: »: »http: »)+ »//www.googletagservices.com/tag/js/gpt.js »,e.onload=t;var i=doc.getElementsByTagName(« script »)[0];i.parentNode.insertBefore(e,i)}(),window.googletag=window.googletag||n,this}},{key: »trackGTMpageLoadEvent »,worth:operate(){return this.dfxGdprChecker.checkLevel(1)?(window.dataLayer=window.dataLayer||[],window.dataLayer.push({occasion: »turboPageView »,virtualUrl:window.location.pathname}),this):this}},{key: »addGptAssetClasses »,worth:operate(e){var t=this;if(!Array.isArray(e))throw new TypeError(« Param assetClasses have to be an Array »);return e.forEach(operate(e){return t.gptAssetClasses.add(e)}),this}},{key: »addGptInstrumentPairs »,worth:operate(e){var t=this;if(!Array.isArray(e))throw new TypeError(« Param pairs have to be an Array »);return e.forEach(operate(e){return t.gptInstrumentPairs.add(e)}),this}},{key: »addGptCategories »,worth:operate(){var e=arguments.size>0&&void 0!==arguments[0]?arguments[0]: » »,t=arguments.size>1&&void 0!==arguments[1]?arguments[1]: » »;this.gptCategories={class:e,subCategory:t}}},{key: »getGptAssetClasses »,worth:operate(){return this.gptAssetClasses}},{key: »getGptInstrumentPairs »,worth:operate(){return this.gptInstrumentPairs}},{key: »getGptCategory »,worth:operate(){return this.gptCategories.class}},{key: »getGptSubCategory »,worth:operate(){return this.gptCategories.subCategory}},{key: »createTaboolaPixel »,worth:operate(){var e=this;if(!this.dfxGdprChecker.checkLevel(3))return this;if(!this.allowedTrackingsConfig[et]||this.taboolaState!==$e.OFF)return this;this.taboolaState=$e.LOADING;var t,n,i,r=operate(){e.taboolaState=$e.READY};return window._tfa=window._tfa||[],window._tfa.push({notify: »occasion »,identify: »page_view »,id:Ye.get(« taboolaPixelId »)}),this.tfa=window._tfa,t=doc.createElement(« script »),n=doc.getElementsByTagName(« script »)[0],i= »tb_tfa_script »,doc.getElementById(i)||(t.async=1,t.src= »https://cdn.taboola.com/libtrc/unip/1350268/tfa.js »,t.id=i,t.onload=r,n.parentNode.insertBefore(t,n)),this}},{key: »taboolaPixelTrack »,worth:operate(e){return this.dfxGdprChecker.checkLevel(3)&&this.allowedTrackingsConfig[et]?(this.pixelState===$e.OFF&&this.createTaboolaPixel(),this.tfa.push({notify: »occasion »,identify:e,id:Ye.get(« taboolaPixelId »)}),this):this}}]),e}(),nt=(De=je(),v(qe=operate(){operate e(){t(this,e)}return i(e,null,[{key: »create »,value:function(e){var t=arguments.length>1&&void 0!==arguments[1]?arguments[1]:window.DFX_CONFIG;return new tt(Ve.create(),Ne.create(),t,e)}}]),e}(), »create »,[De],Object.getOwnPropertyDescriptor(qe, »create »),qe),qe);(new(operate(){operate e(){t(this,e)}return i(e,[{key: »init »,value:function(){document.fonts&&(document.documentElement.classList.add(« dfx-fonts-loading »),document.fonts.ready.then(function(){document.documentElement.classList.remove(« dfx-fonts-loading »)}))}}]),e}())).init();var it=Ve.create();!operate(){operate e(e){var t=arguments.size>1&&void 0!==arguments[1]?arguments[1]:{bubbles:!1,cancelable:!1,element:void 0},n=doc.createEvent(« CustomEvent »);return n.initCustomEvent(e,t.bubbles,t.cancelable,t.element),n} »operate »!=typeof window.CustomEvent&&(e.prototype=window.Occasion.prototype,window.CustomEvent=e)}(), »path »in Occasion.prototype||Object.defineProperty(Occasion.prototype, »path »,{get:Occasion.prototype.composedPath});doc.addEventListener(« turbo:load »,operate(){return e=doc.querySelector(« noscript.jsdfx-script »),window.POLYFILLED&&(e=doc.querySelector(« noscript.jsdfx-script-polyfilled »)),void(e&&window.System.import(e.getAttribute(« data-src »)).then(operate(e){Object.keys(e).forEach(operate(t){window[t]=e[t]}),window.runStacked()}).catch(operate(e){return console.error(e)}));var e}),window.efficiency.mark=window.efficiency.mark||operate(){},window.efficiency.measure=window.efficiency.measure||operate(){},window.turbo=He,Pe(),ze.create().init(),e.DfxGdprChecker=it,e.DfxGdprCheckerFactory=Ve,e.DfxGeoLocationFactory=ze,e.DfxThirdPartyManagerFactory=nt,Object.defineProperty(e, »__esModule »,{worth:!0})}(this.window=this.window||{});